Puppies born in our care find their forever homes
by Emily Cook | Happy Tails Northern projects | May 25, 2018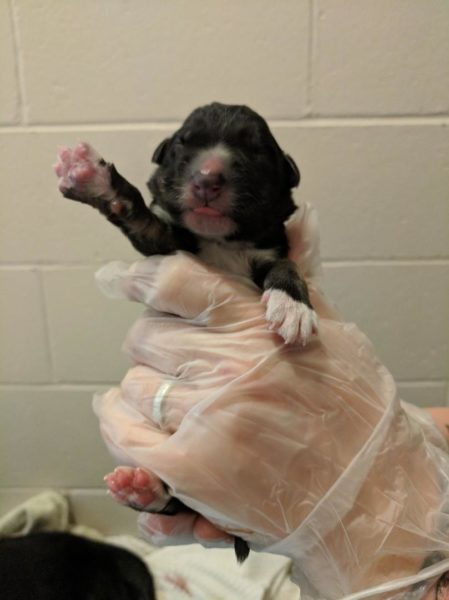 The Ontario SPCA Muskoka Animal Centre recently had a special delivery that's almost too cute for words. 
Back in March, the Muskoka Animal Centre welcomed into its care a lovely mixed-breed dog from Northern Ontario named Maggie Mae. But she didn't come alone. Maggie Mae was pregnant and gave birth to eight beautiful, healthy puppies while in our care.
As anyone who has ever raised a puppy knows, they are a lot of work! Now, imagine eight bundles of joy who are all eager to explore the world. It was non-stop yipping, running and playing! With the help of a dedicated team, we cared for these fuzzy sweethearts, nurturing them and teaching them until they were old enough to find loving homes.
We love happy endings, so we were on cloud nine on the day these pups went up for adoption. Our hearts were full watching the puppies we welcomed into this world head home with loving families to call their own. Maggie Mae was also adopted, which makes this truly a happy ending.
Learn more about the Ontario SPCA's Year of the Northern Dog program by visiting northerndog.ca and following the Year of the Northern Dog Facebook page.
Categories
Your dedication and support
It is with and because of your dedication and support that helpless animals are being saved. Thank you for everything.
-Wendy
Sign up for news and updates
Thank you for joining our online community.