Put your paws up if you want to win the new Draws for Paws 50/50 Lottery
by Ontario SPCA and Humane Society | Interesting | September 26, 2022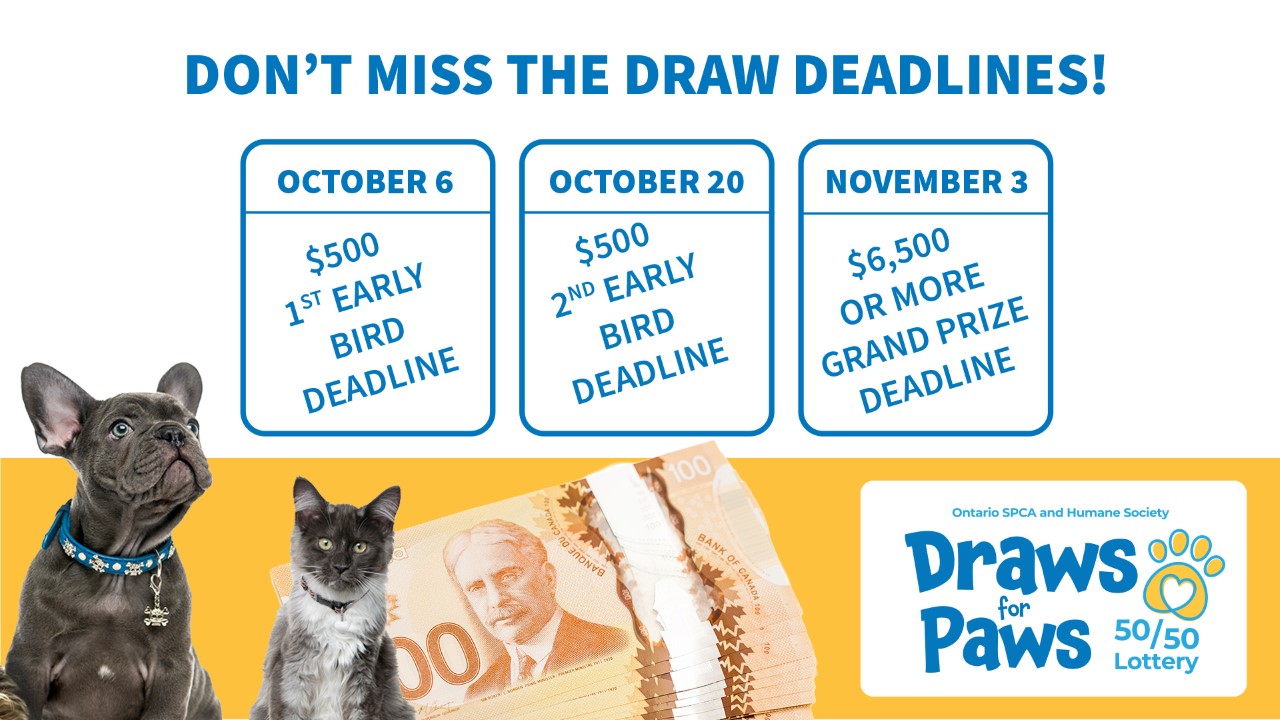 What would you do if you won the Ontario SPCA Draws for Paws 50/50 Lottery? Maybe you'd renovate your home, or buy that toy you've had your eye on, like a boat or camper trailer. Is there a trip you've been dreaming of? Perhaps you'd pay off bills or help friends and family.  
Whether you play to win or just play to help animals in need, there's a whole lotto reasons to play.  
A win for you – and the animals!  
The Ontario SPCA and Humane Society is excited to announce the launch of its Draws for Paws 50/50 Lottery, our first ever province-wide 50/50 lottery to raise much-needed funds for animals in need. It's a rewarding way for people across the province to make a real difference in the lives of animals who need our help – plus, you might just be our lucky grand prize winner! 
The first 50/50 grand prize draw takes place on Nov. 4 at 10 a.m. Tickets for the draw go on sale on Monday, Sept. 26. The grand prize jackpot will have a guaranteed prize of $6,500. The more tickets sold, the higher the jackpot! 
Are there extra op-purr-tunites to WIN?? WOOF YEAH!  When you purchase tickets early, you will be entered into the Early Bird Draw taking place Oct. 7 and Oct. 21, and you could be the lucky one to fetch $500 in winnings! Imagine how many treats or toys you could buy your favourite furry friend with that extra spending money! 
Changing lives, one ticket at a time
The Ontario SPCA is a registered charity that depends on generous supporters to change the lives of vulnerable animals. The Draws for Paws 50/50 Lottery puts the fun in fundraising! It's a new way for us to raise the necessary funds to provide urgently needed care and shelter for homeless animals at our 12 animal centres, and support animals in communities across Ontario through Ontario SPCA mobile spay/neuter programs, animal transfers, pet food distribution and humane education. 
Best of all, it's easy to get involved. Tickets are purchased online at ontariospcalottery.ca That's it! It's easier than convincing your dog that his game of fetch is over and it's time to come inside.  
You'll get the excitement that comes with the chance of winning a BIG cash prize, plus you'll feel good knowing your ticket purchase will change the lives of animals in your community. 
 Lottery License No. RAF1234110 
Categories
Testimonial
Hats off to you
To all kind-hearted and hard-working people at SPCA: hats off to you. I love animals and admire the work you do.
Kellie
Sign up for news and updates
Thank you for joining our online community.