Read to cats with the Ontario SPCA Markham Cat Adoption & Education Centre
by Ontario SPCA and Humane Society | Interesting | September 13, 2022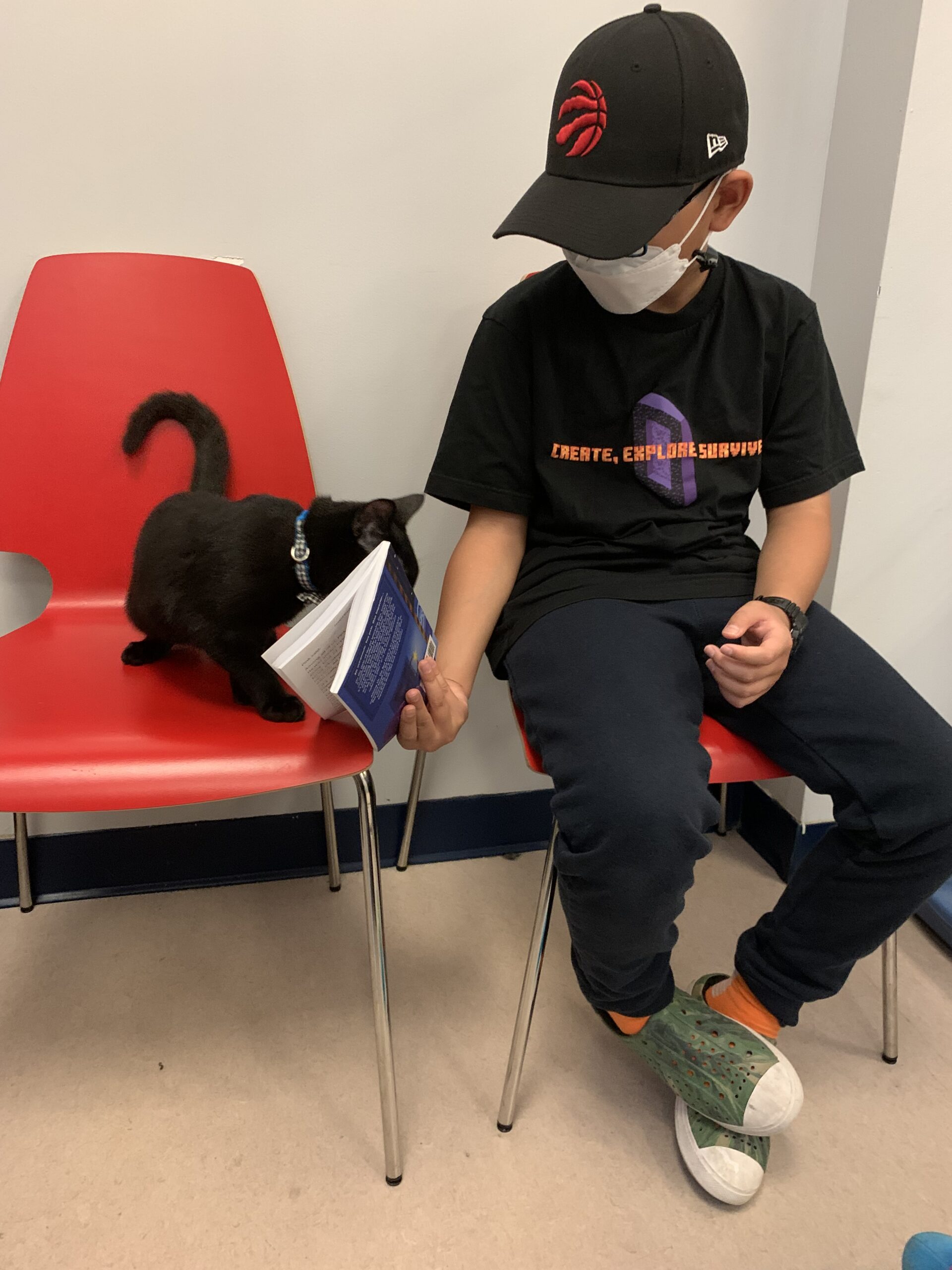 Learning to read can be a nerve-wracking experience for many kids. The Ontario SPCA Markham Cat Adoption & Education Centre helps to lessen the pressure by providing a comfortable learning environment with the company of cats. The reading development program for kids on Saturdays and Sundays is a great opportunity for youth to work on their reading skills, meet the cats in our care, and become more comfortable with animals in a non-judgmental environment. Plus, it's good for the cats as it can help reduce stress and they enjoy the company!  
Learning to read without judgement
While calming for the cats, the reading program is also a great way to get in some quiet time. The program is geared towards children to assist those learning how to read. It's the purr-fect opportunity to practice without judgement. Adults may also participate by completing a quiet activity like knitting, crocheting or doing crosswords while sitting with the cats.  
"It's heartwarming to watch children learn that cats are great companions, while also giving them a fun and comfortable space to be themselves and practice reading, says Ashley Archibald, Animal Care Attendant, Markham Cat Adoption & Education Centre. "I encourage parents to let their kids give it a try!" 
Giving cats a home-like experience
When a child comes to read to one of our cats, it not only helps them develop reading skills and animal socialization, but it also gives them the opportunity to show love to animals waiting for their furever homes. Soft voices help calm the cats and give them a home-like experience. 
"The cats are really playful, and I love cats," says Nyrie, a program participant. 
Parents register their children not only to help with reading, but also to get them used to being around cats, helping them to be more comfortable and gain an understanding of what it would be like to welcome a cat into their family. "I love being able to share these moments with my kids," says Julia, a parent of two young readers.  
Join the reading program
If you, or anyone you know would be interested in the reading program, email markhamcaec@ontariospca.ca  The program is free but you must register in advance and donations are welcome. Sessions are held in 20-minute time slots on Saturdays and Sundays at 1 p.m., 1:25 p.m. and 1:50 p.m. 
Categories
Testimonial
Speaking for the ones who can't speak for themselves
Keep up the good work speaking for the ones who can't speak for themselves. A society who cares for their animals is a better society.  Thanks for your good work!
-Suzali
Sign up for news and updates
Thank you for joining our online community.