Ring in the Holidays with a new furry family member
by Emily Cook | Campaigns | December 3, 2018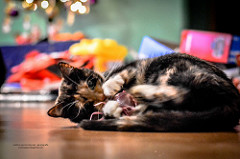 It's hard to believe that the holidays are soon on their way! If you've been considering adopting a pet, there is no better gift to one of our adoptable pets than a new home. Having someone to love and care for them is a gift in itself.
Here are three bonus reasons to adopt over the holidays:
It's a great time to spend quality time with your new pet. Many people are able to be home more frequently over the holidays than any other time of year, meaning you can help get your new pet accustomed to his or her new home.
You can combat holiday stress with a new pet. Many studies have reported the calming effects pets have on people's moods. While holiday shopping and busy lines may make you bonkers, sitting down for a cuddle session with your new pet is sure to lift your holiday spirits!
Many animal centres tend to get busy with an influx of new animals that need care over the holidays. Adopting one of our available pets makes room for more animals that may require urgent care.
Last year, over 4,000 animals  found their forever homes during the iAdopt for the Holidays program. Let's spread the word and help find even more pets loving new homes this holiday season!
If you already have a pet, we want you to share your story by posting a photo on social media using #iAdopt, tag @OntarioSPCA.  There are weekly prizes up for grabs. If you adopt a pet from a participating organization, you could also be entered to win free pet food for a year!
Click to learn more about iAdopt for the Holidays, or visit your local animal centre or participating humane society and meet some of our adorable and lovable pets waiting for a new home.
Categories
As an animal lover all the work you do
As an animal lover all the work you do to help ensure that every dog and cat can find their forever home that is filled with love is greatly appreciated.
-Louie
Sign up for news and updates
Thank you for joining our online community.