Sisters sprinkle the love for animals in need!
by Ontario SPCA and Humane Society | Campaigns Happy Tails | February 1, 2021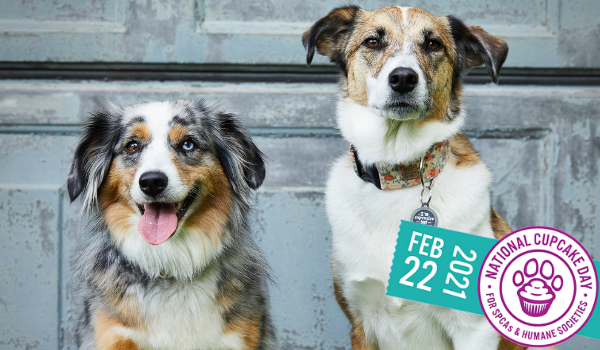 Every year, sisters Sarah and Maddie team up to sprinkle the love for animals in need through National Cupcake Day™.
Sarah bakes cupcakes and promotes the sweetest day of the year through @doublethecattrouble on Instagram. Maddie sells cupcake-themed bandanas, bowties and t-shirts through her business, Lunation Bowties.
Puppy Love
At the heart of their love for animals are Maddie's dogs Luna and Ivy (pictured above), our calendar stars for February!
Register Today
Do you have a love for animals and baking? Register today for National Cupcake Day™ on February 22nd and get baking in support of animals in need across Ontario! 
Cupcakes aren't cancelled, but National Cupcake Day™ will look different this year. The nation-wide fundraiser goes virtual in support of the Ontario SPCA and Humane Society, as well as participating SPCAs, humane societies and rescue groups across Canada.
To keep people safe during COVID-19, the Ontario SPCA is asking Canadians to raise funds for animals in need in their community by baking a difference at home with the National Cupcake Day Decorating Contest, presented by Milk-Bone® and Robin Hood®.
Categories
Testimonial
We have supported the OSPCA since 1951
We have supported OSPCA since our arrival in Canada in 1951.  Keep up the greatest  T.L.C. for animals.
-Paul & Des
Sign up for news and updates
Thank you for joining our online community.