St. Patrick's Day Safety Tips
by Ontario SPCA and Humane Society | General Pet Care | March 17, 2023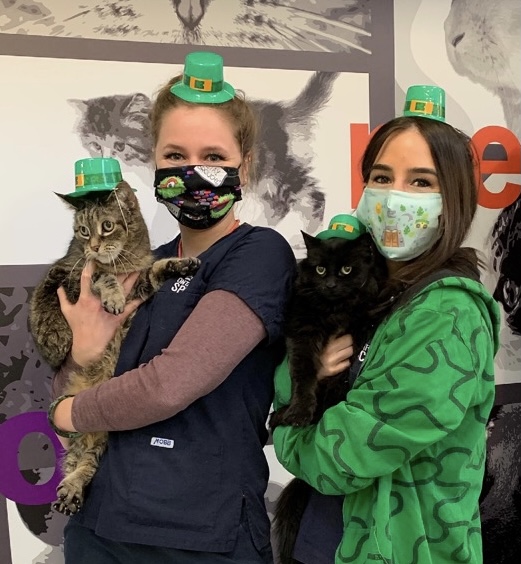 It's that time of year again to break out your four-leaf clovers! However you plan to celebrate St. Patrick's Day, here are some safety tips to keep in mind to make sure your furry friends stay comfortable and safe!
St. Patty's Day Tips to keep you and your furry friends as lucky as the Irish:
1. Lucky Charms: Just like at Christmas and other holidays – shiny, sparkly, dangling decorations attract animals. So, if there's any green tinsel, sparkly pots of gold or emerald ribbon around, be sure to keep it out of reach of your furry friends. Decorations can cause harm to your companion animals if swallowed.
2. March 17th Celebrations: On St. Patrick's Day many people enjoy chocolate, food and alcoholic beverages. Please be mindful that these can be harmful to your furry friend if ingested. Always keep snacks and drinks out of reach of animals.
3. Leprechaun Gear: The big day is not the time for your dog to try on their St. Patrick's Day costume for the first time. You need to make sure they are going to be comfortable and that the costume won't be too tight, or too loose and catch on their feet as they walk. If you haven't prepared in advance, save the costume for next year!
4. Keep your furry friends at the end of the rainbow: If you're hosting a St. Patty's Day shindig in your house, you may not be able to monitor where your companion animal is and what food or drink others may be giving them. Find a quiet place to keep your furry friends away from the noise and party hubbub where they can feel safe and comfortable. As well, if you know you live near bars or pubs where there will be a lot of activity, consider re-routing your walks for the day so your animal can enjoy their exercise and time with you.
Categories
Testimonial
Totally rock
All of your wonderful staff & volunteers totally rock. The amazing compassion and work you provide on a daily basis is incredible.
Laura
Sign up for news and updates
Thank you for joining our online community.