Stocking stuffers that give back
by Emily Cook | Campaigns | December 7, 2020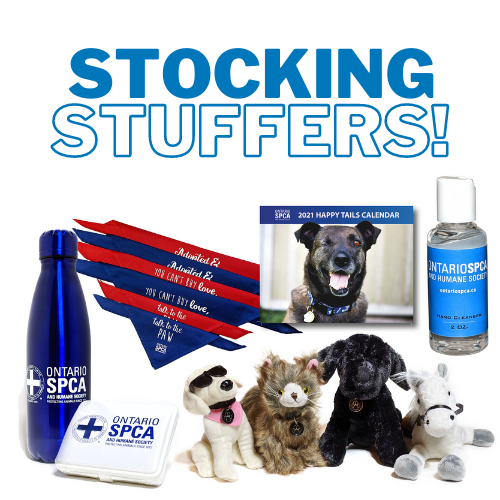 Want to give back this holiday season to animals in need? We have the perfect holiday stocking stuffers for your families and friends in our Paws & Give™ catalogue!
We've got lots of fun gifts for the animal lover in your family. From pet bandanas to branded water bottles, collectible plush animals to our 2021 Happy Tails calendar, and of course – hand cleanser!
Look through the catalogue for yourself and see what items your family would purr-fer!
Stocking stuffers for animal lovers!
Please place your order soon as these items will not be available after Thursday at 11:59AM EST. They will return on Boxing Day for our boxing week sale and beyond
Symbolic giving
Looking for a tangible gift that doesn't need any wrapping? Visit the Gifts with Impact section of our Paws & Give™ website.
You can help provide toys for shelter pets, a cat or dog holiday care package, a gift of urgent need, and so much more! Every bit helps and we are so grateful for all of your support.
Happy shopping!
Categories
Testimonial
For every animal you save
For every animal you save, every animal who feels loved in their last moments, and for everything else you do; thank you and God Bless.
-Stephanie
Sign up for news and updates
Thank you for joining our online community.