Teamwork helps Smiley smile again
by Ontario SPCA and Humane Society | Happy Tails | January 19, 2023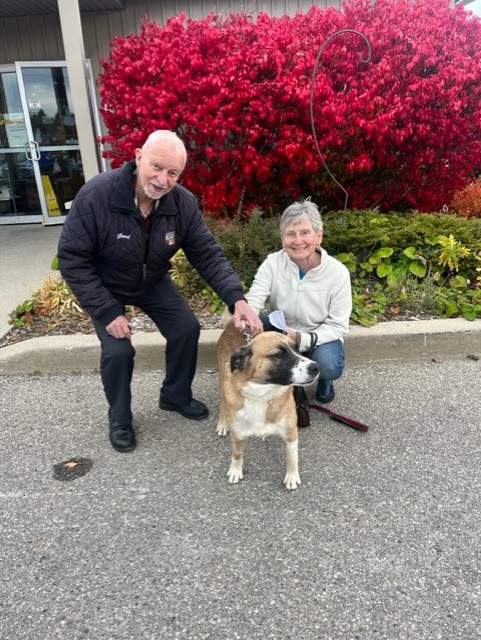 A sweet dog named Smiley came to the Ontario SPCA Orangeville & District Animal Centre as an animal transfer from a partner shelter that was at capacity. The shelter asked for our help to find this dog a home, and he was accompanied by a letter from his foster parent at the time.  
"Hi! My name is Smiley, and you won't have a hard time guessing why," the letter begins. "I can't help but smile all gums and teeth when life is good."   
But life hasn't always been good for poor Smiley. He was found as a stray with deep, infected wounds covering his back that had been untreated for quite some time. What caused these serious injuries isn't known, but he was in very serious condition.   
Sweet letter from foster parent details all that Smiley enjoys
After receiving life-saving care through our partner, Smiley was placed with a new foster family to help him recover. When it was time to find a loving forever home, Smiley's former foster parent sent a sweet note with him detailing everything this sweet boy enjoys – her way of helping him find a loving home. Smiley was placed in a foster home with Gord and Joan, two long-time volunteers with the Orangeville & District Animal Centre.   
Gord and Joan provided all the tender love and care that Smiley needed and deserved. Shortly after, they realized they could not imagine life without the infectious Smiley in their home. Once he was ready to officially be adopted, Gord and Joan adopted Smiley, completing their family and are now living their best life together.  
Happy stories like this would not be possible without community partnerships, volunteers, dedicated staff and, of course, our generous donors who make second chances possible for animals like Smiley.   
Visit our website at ontariospca.ca to learn more about how you can change a life. 

Categories
Testimonial
Thank you for looking after these animals
Thank you for looking after these animals — I would love to have them all in my house!
Ulla
Sign up for news and updates
Thank you for joining our online community.