Thanksgiving Pet Safety Tips and Tricks
by Ontario SPCA and Humane Society | General Pet Care | October 8, 2018
Crisp fall air, long walks at the park and quality time cuddled up on brisk-weather mornings with your pet are some of the perks of fall! As Thanksgiving has arrived, we want to help you keep your pet safe from common holiday dangers with some of our handy tips on Thanksgiving pet safety.
Welcoming your guests and visitors on the long weekend may be fun for humans, but it can cause distress in pets. Crowds of people, especially inexperienced or over-excited pet handlers (particularly children), and can cause emotional stress or potential for injury. This is true especially for larger pets and elderly guests or children but can also apply to smaller, fragile breeds of dogs or cats if they are stepped on or jump on or off furniture.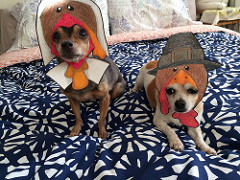 High-stress environments can also trigger unexpected behaviour in even the calmest dogs, so check out our guide to dog bite prevention  to brush up on your dog safety skills. If your pet gets very stressed, consider talking to your vet about alternative methods of keeping them calm. Keep pets in a comfortable, familiar part of the house away from the action, ideally with their favourite toy or treat to keep them occupied.
Pay particular attention to doors left ajar to avoid any unplanned escapes. Even if your pet is microchipped and wearing their tags, keeping pets away from open doors and windows is always a good idea. Leaving a visible note or reminder by any frequently used doorways can also be an easy way to help remind guests to be aware.
While planning your Thanksgiving décor, keep in mind some floral arrangements or plants may be beautiful but not safe for pets. These can include hydrangeas, ferns, baby's breath, and amaryllis. If you aren't sure if the plants in your house are dangerous, visit the ASPCA's hazardous plant list for dogs or cats. Sparkly or scented decorations in planters or vases could be tempting to play with, especially for cats. Keeping plants off the floor or in hard to access rooms/locations is always a good decision.
During dinnertime, keep in mind that turkey and the skin are too fatty for many pets to digest properly, and can trigger pancreatitis. Desserts that contain chocolate or xylitol can be toxic to pets, so save them for your human guests to enjoy! Don't forget to keep pets away from leftovers and the turkey carcass and bones by safely disposing of it where they aren't tempted to investigate, such as in a sealed bag or secure trash receptacle and stored outside or locked away.
Thanksgiving is a wonderful time to enjoy with your pets, so keep them happy and healthy this holiday season by following our top pet safety tips!
Categories
Testimonial
Totally rock
All of your wonderful staff & volunteers totally rock. The amazing compassion and work you provide on a daily basis is incredible.
Laura
Sign up for news and updates
Thank you for joining our online community.