This is big! Introducing SPCA Mobile Animal Wellness Services
by Emily Cook | News | June 20, 2019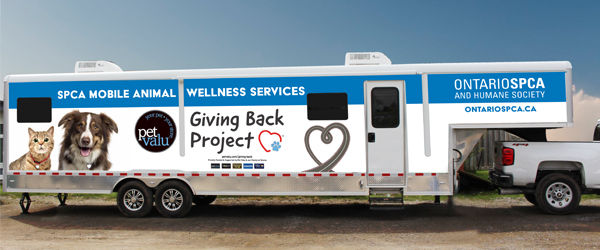 We've got some exciting news! The Ontario SPCA and Humane Society is hitting the road and shifting its spay/neuter services into high gear to help control pet overpopulation.
The new SPCA Mobile Animal Wellness Services trailer is getting ready to roll into communities across the province. As part of our ongoing efforts to control pet overpopulation, it will allow us to reach underserved communities, providing spay/neuter surgeries, wellness exams, microchipping and vaccinations.
Generously sponsored by Pet Valu, the 38-foot mobile unit features two surgical tables and has the capacity for our team to perform an average of 20 to 30 spay/neuter procedures each day!
SPCA Mobile Animal Wellness Services will also serve as an important educational tool to help pets live longer, healthier lives. Statistics show that many pet owners who access these types of mobile services don't have a regular veterinarian. We want to change that by educating pet owners about the importance of routine veterinary care with a local veterinarian.
Confirmed Dates and Locations:
June 25-26 – Pembroke
July 9-10 – Cornwall
July 23-24 – Brockville
Aug 16-17 – Peterborough
Other dates coming for the Fall
This new mobile spay/neuter unit is ready to hit the road and service communities across the province, but about $65,000 is still needed to stock the unit with medical supplies and cover operating costs. Thankfully, we're over half way towards that goal — and we've had some generous Ontario SPCA and Humane Society supporters step up to help us get the rest of the way there.
Until June 27, 2019 at midnight (EST), all donations* made, will be doubled in support of getting this new mobile unit to as many communities as possible.
Please help spread the word and watch for updates as we travel the province, creating meaningful change for pets and people this summer.
Categories
Totally rock
All of your wonderful staff & volunteers totally rock. The amazing compassion and work you provide on a daily basis is incredible.
Laura
Sign up for news and updates
Thank you for joining our online community.