Three programs to help feral cats & their caregivers
by Ontario SPCA and Humane Society | Cat Care | October 14, 2022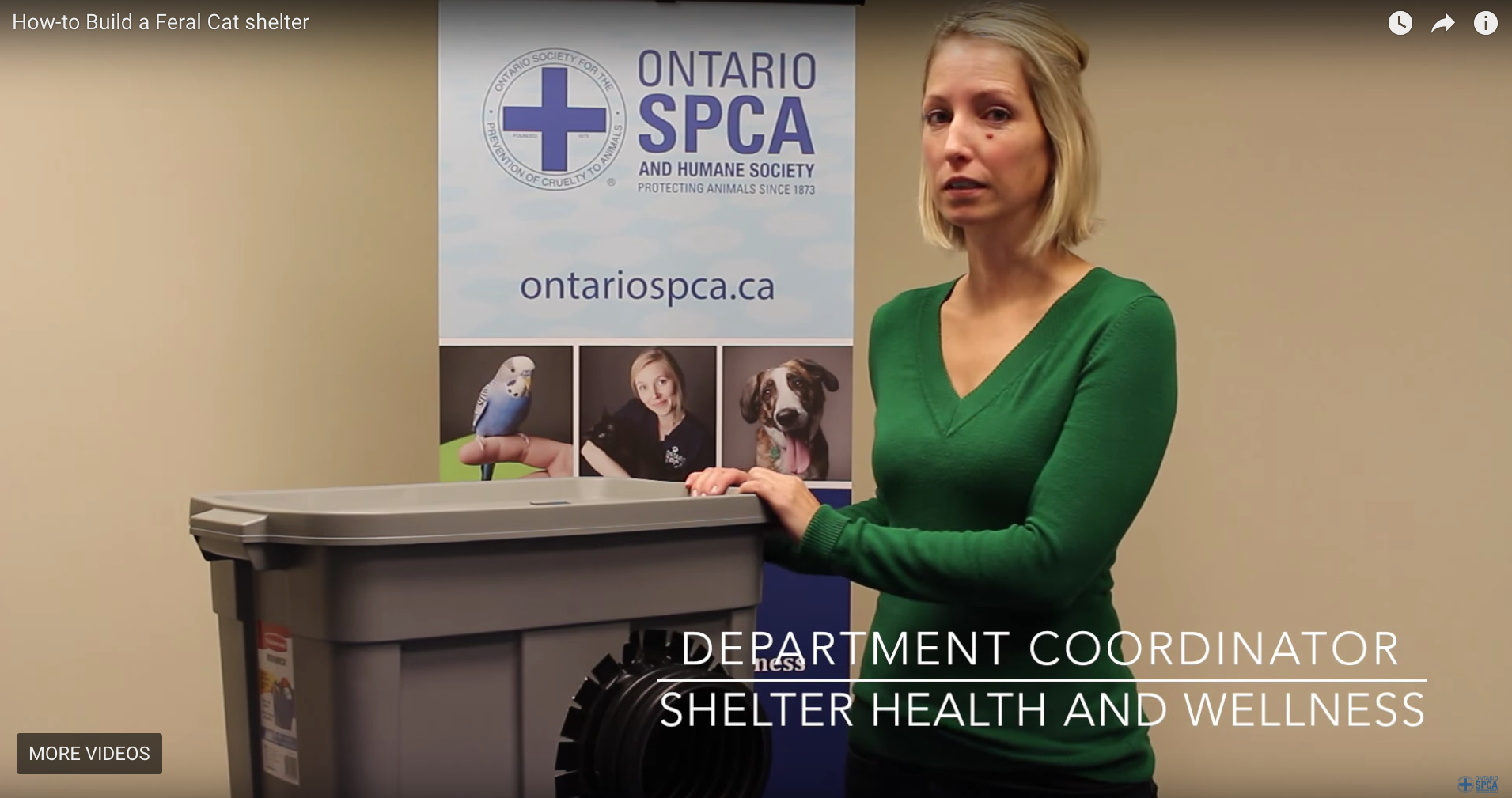 Did you know Oct. 16 is National Feral Cat Day?! 
The Ontario SPCA and Humane Society cares about all animals, including community cats! This is why we have programs to assist feral cats, also referred to as community cats. 
Three programs to help feral cats & their caregivers
To assist feral cat caretakers in managing feral cat colonies, the Ontario SPCA has developed three innovative programs: 
Feral Cat Trap Depot Program.

The Society loans cat traps to feral cat caretakers at no charge in an effort to trap, neuter and return (TNR) the stray cat population.

 

Free Feral Food Bank.

This food bank provides a sustainable supply of food to colony caretakers. Without the participation of the Ontario SPCA, dedicated feral cat colony caretakers use their own personal funds to provide food for these cats that have been abandoned by society.

 

Feral Cat Shelters.

A limited amount of shelters are made each fall by volunteers (or can be affordably made by anyone following the instructions below) for caretakers to provide a safe, warm place for community cats during our cold, harsh winters.

 
How to build a feral cat shelter
If you're interested in making your own shelter, you'll find the video below very helpful! 
Also, read more information on our blog How to Build a Feral Cat Shelter 101. 
The working cat program 
The Ontario SPCA and Humane Society also has a working cat program in which community cats that end up in our centres and cannot be returned to their original colony site, are given "jobs" as working cats. As former street cats who are used to outdoor life, working cats are not typical indoor pets and have no desire to be lap cats. However, what they lack in social skills they make up for when it comes to keeping vermin problems under control.  
These cats are healthy, sterilized, vaccinated, microchipped, ear tipped and in need of a new, non-traditional home environment. Some examples of these new homes could include barns, stables, auto repair shops, woodworking shops, wineries, breweries, greenhouses/nurseries/garden centres, churches, storage facilities/warehouses.  
To learn more about the working cat program, visit ontariospca.ca/adopt/working-cat-program or check out this video to watch it in action.
 
Learn more about supporting community cats by visiting ontariospca.ca/adopt/community-cats  
Categories
Testimonial
Totally rock
All of your wonderful staff & volunteers totally rock. The amazing compassion and work you provide on a daily basis is incredible.
Laura
Sign up for news and updates
Thank you for joining our online community.