Tips for fostering pregnant cats and their kittens
by Ontario SPCA and Humane Society | Cat Care Interesting | October 18, 2021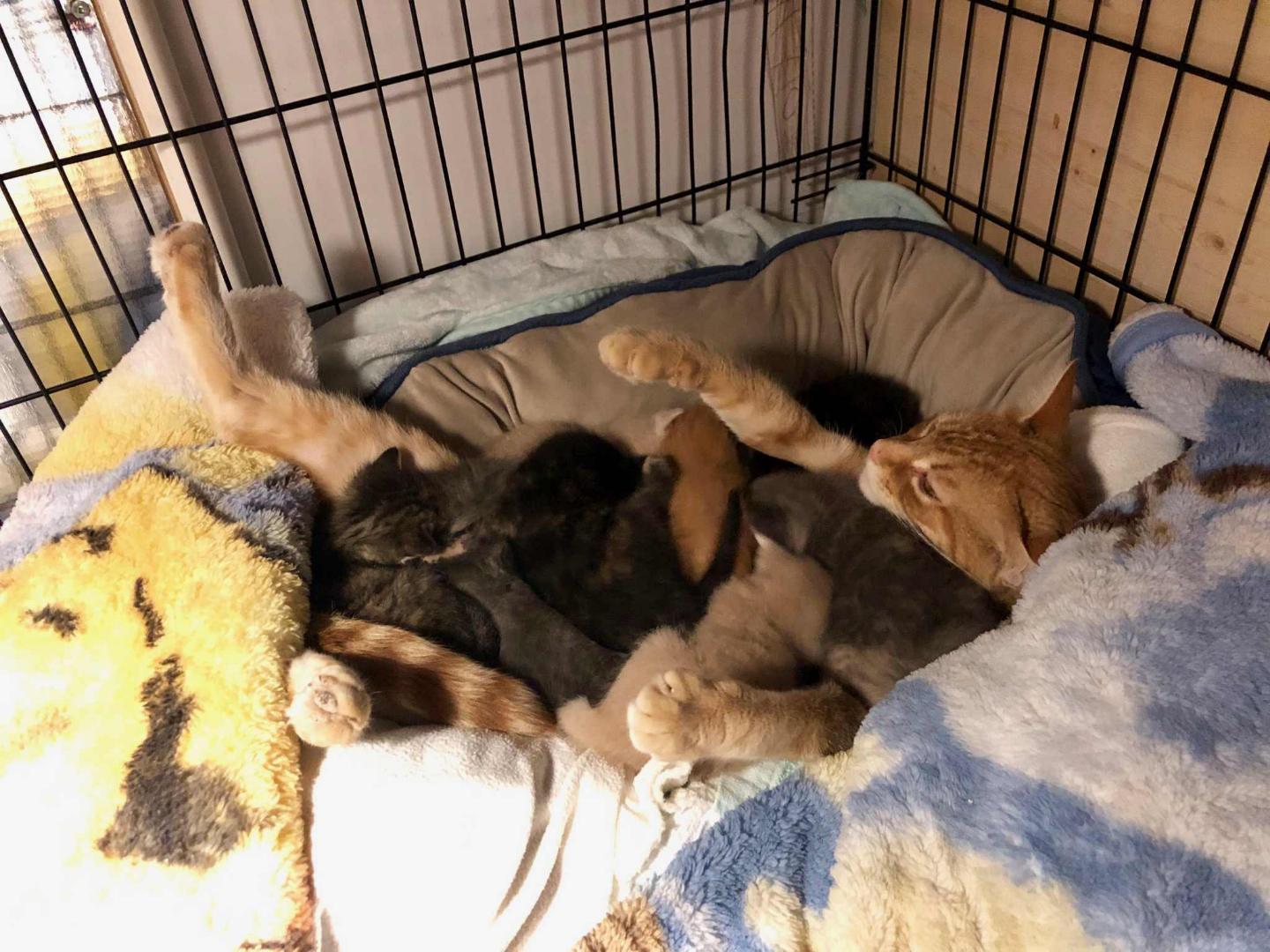 Fostering a pregnant cat and helping to raise her litter of kittens is no small task, but as a foster volunteer, it's a rewarding one! With a little guidance from the animal care team at the Ontario SPCA and Humane Society, you'll be on the right track to giving your kitties all the love they need.
Supplies for fostering a mom and her kittens
You have made the decision to foster a pregnant kitty and help her raise her young. Some of the things Mamma will need include a nest box, litter pan, litter, cat food for kittens or nursing mothers, toys, dishes and blankets to keep her comfortable. The animal centre will provide all the necessary supplies.
Setting up their space at home
It is absolutely necessary  to provide a quiet space where soon-to-be mom can settle in. Your pregnant kitty may be shy, so she will need time to adjust to her new living quarters. Feeding time is an excellent opportunity to strengthen the bond between you and the mother cat.
Now that she has settled in, it is time to wait for the big day. By now she has probably picked out her location for nesting. This is where you want to place the nesting box. Try gently rubbing her head with the bedding material you are using in the nesting box to give it a familiar scent for her. During this time, your job is to make her comfortable and secure. Be sure to continue with a structured feeding schedule and litter cleanings.
What to expect on the big day
The big day has arrived. Mom is ready to give birth to her kittens. At this time, it is important to have your foster coordinator's contact information just in case a problem arises. Most deliveries progress smoothly and without complications, but it's important to have a plan in case of emergencies.
At this time, mom takes care of everything. Your job is to take care of mom by making sure she is well fed and her litter is changed. Now you can sit back and observe these little cuties nursing. During the early days, it's a good opportunity to read about the developmental milestones of kittens. This will help you to know what to expect as the days and weeks pass.
Caring for kittens
As time progresses, kittens will begin exploring, eating solid food, using the litter box, and playing with their siblings. This is a great time to begin socializing with humans as well. Socializing can include holding the kittens, petting them, talking to them and playing with them. 
 You will be changing the litter box at least once a day or more often if needed and feeding a diet outlined by your foster coordinator. They may also enjoy the occasional treat! Treats are a great way to socialize the babies as well once the kittens are eating solid food on their own. 
Once the kittens are a few weeks old and more independent, now is the time to bring out the cat toys. A cat tree for climbing and perching and a cat scratcher are great items to have in the fostering room.
There may also be trips to the animal centre or a veterinarian appointment required. This is a good time for the kittens to get used to being transported in the carrier and become comfortable with car rides.
Finding forever homes
Once recovered, mom and babies can be put up for adoption. You can share your photos, movies and any important information you might have about their personalities with the animal centre to help them find forever homes.
Thanks to you, this family had a safe, warm and loving place to flourish. You did a great job!  Hopefully, you have enjoyed this experience so much that you would like to do it again in the future.
For more information on becoming a foster volunteer, visit ontariospca.ca/foster 
Amanda Gordon is a long-time donor and foster volunteer with the Ontario SPCA Muskoka Animal Centre. She has two furry family members, Buster (dog) and Chipotle (cat), and has a soft spot for adopting senior dogs with special needs.
Categories
Testimonial
Wish to thank everyone involved
I wish to thank everyone involved in the care and rescue of animals, especially volunteers.
Agnes
Sign up for news and updates
Thank you for joining our online community.