Tips for Safe Travel with Your Dog during the Holidays – and year-round!
by Emily Cook | General Pet Care | December 15, 2017
Hitting the road with your dog is a fun and adventurous bonding experience. However, 72 per cent of dog owners admit to traveling with their dog unrestrained in their car*. Not only does this put your dog at risk of injury, it also puts all other passengers in danger. For people with small dogs, a 10-pound dog in a crash at 50 mph will exert roughly 500 pounds of force. As for larger dogs, an unrestrained 80-pound dog in a crash at 30 mph will exert approximately 2,400 pounds of force. Just like you buckle your seat belt in the car, your dog needs to be restrained and buckled in properly, too. Here are few tips for keeping you and your dog safe on every road trip.
Use a crash tested harness
The first step to safe travel is investing in a crash tested dog harness. The benefit of this type of harness is that most can be used as a standard walking harness, while also providing extra protection in the car. Kurgo's Enhanced Strength Tru-Fit Smart Harness has a broad, padded chest plate for extra comfort and safety. It has also been crash tested for dogs up to 75 pounds. Before purchasing a car harness, make sure it is tested for the weight of your dog. A durable car harness can be used for dogs of all sizes and most will fit to the appropriate restraint system, such as a seat belt tether for bigger dogs or a small dog booster seat.
Find a comfortable restraint system
There are many solutions for keeping your dog safe in the car, based on size and comfort. For larger dogs that sit in the middle row, a dog seat belt that connects directly to a harness is a great option. However, note that your dog won't have as much mobility to get comfortable or move around as other restraint options. For dogs that are more comfortable with less restriction, a zip-line can be used across the middle or back seat of a car and attached to a crash tested harness. All options safely restrain dogs and keep them safe. For smaller dogs under 30 pounds, a car booster seat is a great option for keeping dogs safe. You can also attach it to crash tested harnesses for additional support. While restraining your dog may seem intimidating, the effort of strapping your dog in, just like you would yourself, will allow for a lifetime of safe journeys together.
Contain your dog in a specific area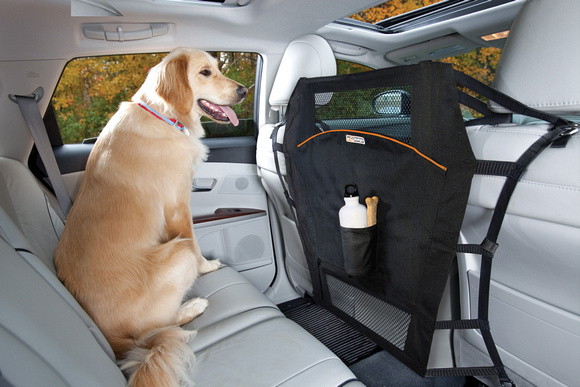 It's true that 29 per cent of drivers admit to being distracted by their dog while driving*. This can be caused by the owner petting his or her dog and giving them treats, or by a dog barking or making sudden movements into the front of the car. The best solution for distracted driving is containing a dog in a specific area. Based on your lifestyle and travel frequency, this could be in the middle row of your car or the trunk area. While it is important to restrain your dog, it is also a safe idea to contain your dog. Using a Backseat Barrier is a great option for keeping your dog out of the front seat. Kurgo also created a Cargo Barrier to keep dogs safely in the rear of a car.
Regardless of where you are traveling or how long your road trip is with your dog, make sure you are prepared to safely travel together. Keep your pup restrained, contained, and in a well-fitting crash tested harness for optimum safety and support. Interested in learning more? Read Kurgo's recent post on Pet Travel Safety Tips.
*Travel Statistics: AAA & Kurgo Pet Passenger Survey
Andie Missert is a Marketing Specialist at Kurgo Products. She manages the Kurgo blog and enjoys reading about unique adventures that dog owners go on with their pups. 
Categories
We have supported the OSPCA since 1951
We have supported OSPCA since our arrival in Canada in 1951.  Keep up the greatest  T.L.C. for animals.
-Paul & Des
Sign up for news and updates
Thank you for joining our online community.