Toronto Police K9 unit adopts 'Jasmine' from Ontario SPCA
by Ontario SPCA and Humane Society | News | April 12, 2018
When Jasmine arrived at the Ontario SPCA Provincial Education & Animal Centre (PEAC), we knew she was special and as of April 6, 2018, she's set up for a life of adventure, as a Toronto Police Services dog.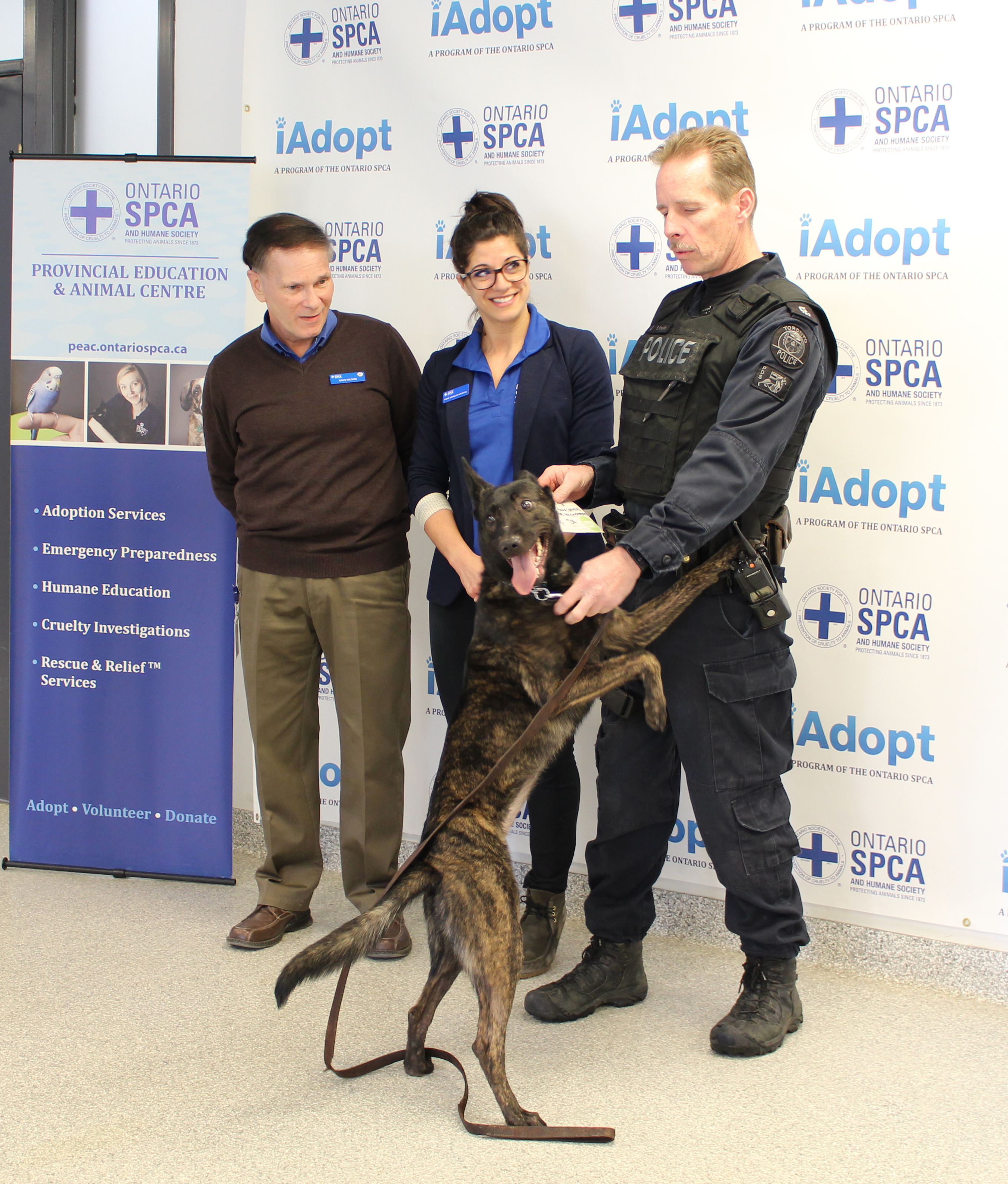 Soon after Jasmine, an approximately 1-year-old Dutch Shepherd-mix, was surrendered to PEAC, staff realized how agile and energetic she was. As an inquisitive and athletic dog who likes to be kept busy, the Ontario SPCA felt she would thrive in an environment where her intelligence and high energy could be fully appreciated. This is where Sgt. Scott Fowlds with the Toronto Police Service's canine unit came in.
The Ontario SPCA felt with Jasmine's high energy and athletic personality, she would thrive in an environment where these traits would be valued and where she would receive training to help her focus that energy. After assessing this, we reached out to Fowlds to invite him to meet Jasmine and see if she might be a suitable candidate for their canine program.
"It's exciting and really humbling at the same time. We have high hopes for Jasmine, as she's been showing so much potential, and we're really hopeful that she'll do great while completing her assessment and training," says Dave Wilson, director of Shelter Health & Wellness, Ontario SPCA.
Last Friday, April 6, the adoption was finalized and Jasmine officially became part of the Toronto Police Services family. She will begin her canine training with the police force in the coming months.
"She's going to have an awesome life," says Sgt. Scott Fowlds, Toronto Police Services.
The Ontario SPCA is pleased to be partnering with Toronto Police Service on this adoption. We wish Jasmine all the best on this exciting new chapter of her life and we look forward to seeing her development as she progresses through her training.
Categories
Testimonial
Thank you for your dedication
Thank you for your dedication to helping the animals.  Every animal deserves a loving home and to be treated royally.  Just imagine a day without animal cruelty.  What a wonderful day that would be!
-Joan
Sign up for news and updates
Thank you for joining our online community.