Understanding the importance of your cat's litter box
by Ontario SPCA and Humane Society | Campaigns | November 25, 2019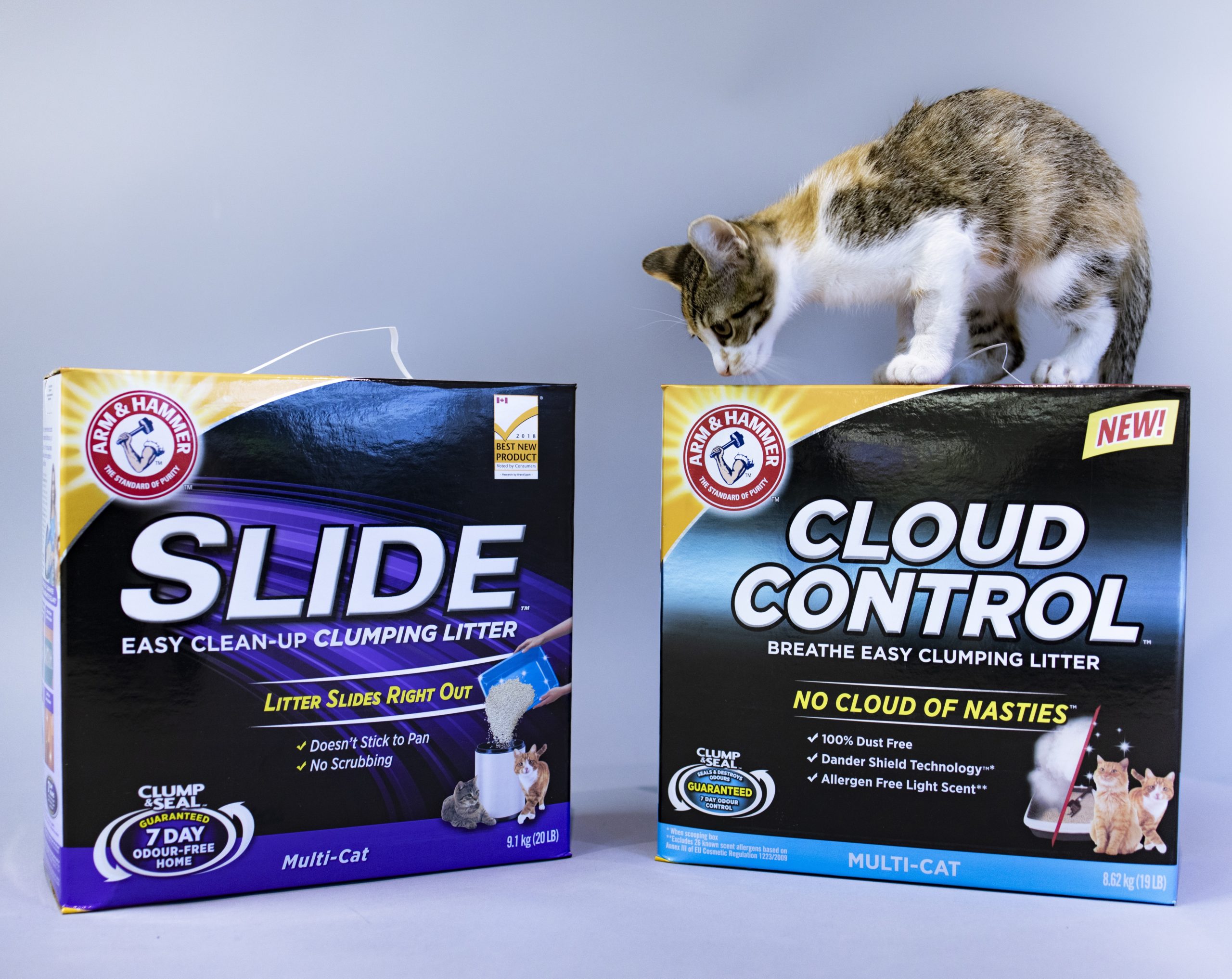 Sponsored by our friends at Arm & Hammer.
Each year, millions of cats are surrendered to shelters due to litter box issues. However, with a bit of patience and care, cat's litter problems are some of the easiest to solve. To help you raise happy, healthy, box-abiding cats, create an environment that falls in line with their natural instincts by following these five tips:
Five litter box tips for you and your cat
1. Uncovered versus covered litter boxes: Most owners believe cats prefer privacy and therefore have covered litter boxes. However, by keeping the box uncovered, you give your cat several ways to escape if it feels threatened. This making it less likely to urinate where it feels safer, like your couch or under the dining room table.
2. Odour trapping litter: Cats are very sensitive to smell and texture. The Arm & Hammer™ Cloud Control™ Breathe Easy Clumping Cat Litter has all the important elements to make cats happy about using their litter box. Its patented Clump & Seal Technology™ seals and destroys odours before they can leave the litter box.
3. Number of litter boxes: Cat owners should have one litter box per cat plus one extra. For instance, two cats need three litter boxes. Tight on space? Multiple locations trumps number of boxes.
4. Amount of light: Contrary to belief, cats do need some light to see. Try placing a night light near their litter box and turning it on in the evenings so they feel safe and can navigate to their box easily.
5. Frequency of changing litter: Cats will often stop covering urine or stool when finished if the cat litter hasn't been cleaned properly. It's recommended that the litter be scooped 1 to 2 times daily, the litter be completely changed, and the box is cleaned thoroughly every 30 days, which is daunting for most cat owners. One of the worst parts about cleaning a litter box is the nasty cloud of litigants which can rise up and cause discomfort. Try using Arm & Hammer™ Cloud Control™ Breath Easy Clumping Cat Litter! It's Dander Shield Technology™ helps reduce airborne dander, removing the cloud of nasties associated with changing litter.
There's nothing like coming home to your furry friend at the end of the day! Following the above litter tips to create a natural environment for your cat will help your furry friend live a happy and healthy life – free of litter box issues!
For more information on Arm & Hammer™ Cat Litter and litter pet care solutions, visit www.armandhammerpets.ca
iAdopt for the Holidays
Thank you Arm & Hammer for your incredible donation that is allowing our cats and kittens to go home with a brand new box of your Arm & Hammer™ Cloud Control™ Breath Easy Clumping Cat Litter*
*While quantities last.
Categories
Testimonial
Speaking for the ones who can't speak for themselves
Keep up the good work speaking for the ones who can't speak for themselves. A society who cares for their animals is a better society.  Thanks for your good work!
-Suzali
Sign up for news and updates
Thank you for joining our online community.