Update on Molly!
by Laura Therrien | Happy Tails | May 15, 2013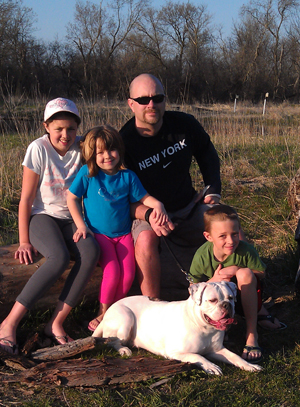 Thank you Linton Family for this wonderful update on Molly.  We are so happy to see she is part of a loving family.
Just thought you would like an update on how Molly is doing.
She took to the family and house right away, the cats are still a little unsure of her and her excitement when she comes into the room and sees them but they are learning to live with each other.
She is definitely not a guard dog and barely moves when the door bells rings or someone walks in but she is happy to greet them when she does decide to get up.
 She has made lots of friends, 4 legged and 2 legged, on the street and on our daily walks and knows when to expect certain people at certain times and can pull until she gets there to see them.  
She makes her rounds each night to say goodnight to each of the kids (and one last try for a cat) before retiring to bed either in her crate (where she will happily sleep with the door open) or sometimes if Daddy is not there in bed, with Mommy for a cuddle. 
She became a family member the first night and we are so thankful to whoever took care and trained her before she came into our lives and can't imagine what we did with our evenings before walking with her. 
Thank you to all of the members there who cared for her and hopefully we will be able to visit with you one day soon.
 The Linton family
Categories
Testimonial
Totally rock
All of your wonderful staff & volunteers totally rock. The amazing compassion and work you provide on a daily basis is incredible.
Laura
Sign up for news and updates
Thank you for joining our online community.