Update on Sushi
by Laura Therrien | Happy Tails | November 6, 2012
We are happy to hear that Sushi is doing well.  Below is a letter we received on her update.  Thank you to the Bennett family for giving Sushi a loving home!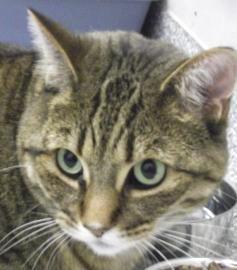 "Touching base to let you know that Sushi is doing great. She is on her weight management food and past her vet visit with flying colors. Weight goal for vet is 11 pounds, but we will be happy with 12 realistically that is fine for her I think. She has lost 1/2 pound a week so far and went from hardly making it up the basement stairs to running up before me. She loves playing with her mice, ball, and string. Her personality is a great match for us.
Doesn't beg for food at dinner time like our last spoiled cat and sleeps in her own bed. She is wonderful addition to our family and has a great personality. Thank so much again!"
The Bennetts
Looking to add an addition to your family?  Check out all the wonderful animals we have for adoption by visiting your local Ontario SPCA website.  Find you branch here.
Categories
Testimonial
Your dedication and support
It is with and because of your dedication and support that helpless animals are being saved. Thank you for everything.
-Wendy
Sign up for news and updates
Thank you for joining our online community.