Update on Tia and Her Six Puppies
by Laura Therrien | Happy Tails | April 3, 2013
We recently relayed a story about the collaboration of the Ontario SPCA Renfrew County Branch and The Friendly Giants Rescue in finding Tia and her six puppies homes.  We just got an update from their foster mom that we wanted to share with you.
I had the privilege of fostering Tia and her 6 puppies from February 1st until the pups were old enough to 'leave the nest', and continue to foster Tia.   Tia is an awesome girl, and was a wonderful mother to her pups.   
Six tiny puppies that fit into a box along with their 'teacup sized Great Dane' mama arrived and we set them up in a separate area of the house away from all the commotion, other dogs etc…  Tia took very good care of her little ones, allowed us to handle them (for weighing, deworming and just general handling).  The pups commenced weaning at 3 ½ weeks old and within 2 weeks were completely weaned, eating on their own (much to Tia's relief).  In the meantime, Tia was being given several meals per day with supplements as well as exercise in the outdoors (on lead, of course).
The pups grew very fast (wow) and soon were moved to their own crate with a large exercise pen attached.  They were socialized with people, accustomed to handling, potty routines ~ quick little learners.  Of course, pups being pups would sometimes be a bit challenging but all in all they were sweet little things.   Slowly, the pups were dispersed to foster or forever homes.
When Tia arrived she weighed slightly over 90 lbs, she now weighs in at 116 lbs.  She is a very gentle girl, a dream on the leash, completely house trained, knows all of her commands (sit, wait, down, off, steady, up etc);  takes treats very gently and gives wonderful little kisses.  Whomever Tia chooses to be her forever human companion will be a very lucky person.  Tia deserves humans that will dote and love on her.  I cannot say enough about how amazing Tia truly is !  Our next step with Tia is to test her with other dogs.
Kindest regards,
 Deanna
Volunteer foster for Friendly Giants Dog Rescue
Volunteer transport coordinator for Pilots'N'Paws Canada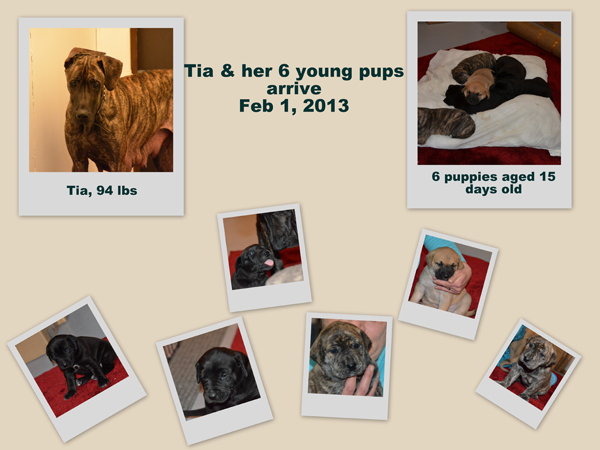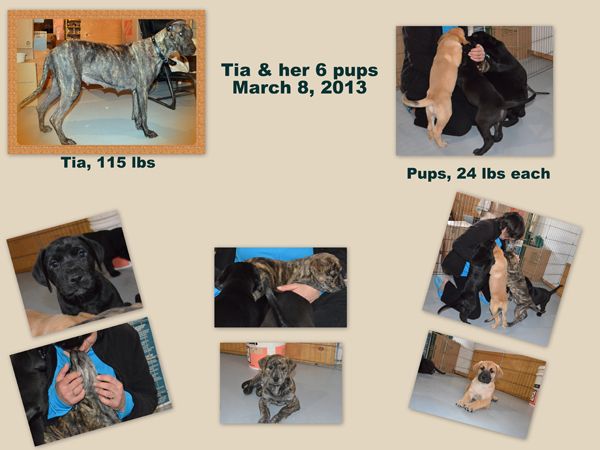 Categories
Testimonial
Thank you for looking after these animals
Thank you for looking after these animals — I would love to have them all in my house!
Ulla
Sign up for news and updates
Thank you for joining our online community.