What's in a name? Defining SPCA's, humane societies and rescues
by Emily Cook | Interesting | June 12, 2020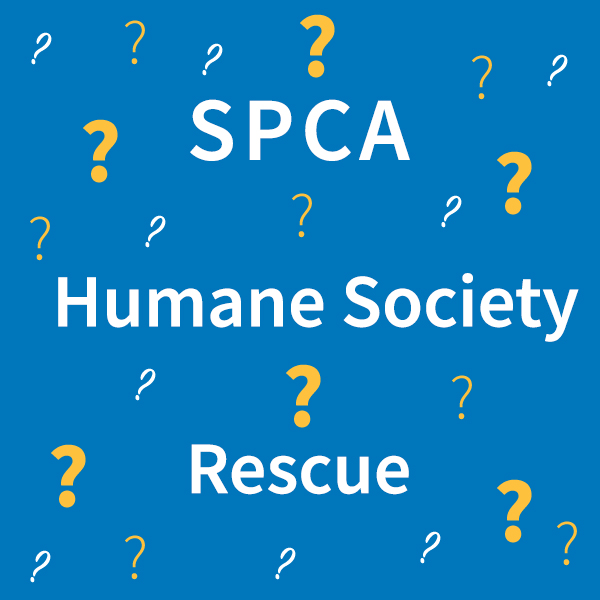 What's the difference between SPCA's, humane societies and rescue organizations? It's a common question that often causes considerable confusion. While they all help animals, they have their own unique focus, missions and programs.
SPCA's and humane societies offer a variety of services to their communities. Animal adoption is a key component of what they do, but the scope of their reach is much broader. For example, SPCA's and humane societies typically focus on humane education programs. They design programs that educate the public about animal care and well-being. In addition, they become licensed to offer additional services to pet owners.  Services may include microchipping, vaccination clinics, or spay/neuter procedures. The SPCA even has a mobile spay/neuter unit that you can read about here. Some SPCA's and humane societies may also have programs in place to support community members. These include pet food banks, emergency boarding services, resources for feral cat caretakers and other outreach initiatives.
Rescues tend to focus on one specialized service or a select number of services. For example, they may focus on transporting food or providing services to a specific geographic region. Or, they may offer care for a specific breed or type of animal. The Ontario SPCA and Humane Society rely on the support of rescue partners for use of specialized resources. Rescues tend to be smaller organizations, but their impact can be mighty!
Together, SPCA's, humane societies and rescues are changing the lives of animals across Ontario, Canada and abroad. We may all have different missions, values and expertise, but we are united by the desire to help animals.
Categories
Testimonial
Speaking for the ones who can't speak for themselves
Keep up the good work speaking for the ones who can't speak for themselves. A society who cares for their animals is a better society.  Thanks for your good work!
-Suzali
Sign up for news and updates
Thank you for joining our online community.