Who doesn't like cupcakes? Recipe from Mary Berg, host of Mary's Big Kitchen Party
by Ontario SPCA and Humane Society | Campaigns | February 8, 2018
The incredible Mary Berg is this year's National Cupcake Day™ Champion and we couldn't be more excited!
Mary is the winner of Season 3 of MasterChef Canada and host of Mary's Big Kitchen Party on Fibe TV Channel 1. She's not only a baker extraordinaire but also has a passion to help animals in need.
Today we're sharing with you her delicious recipe for Classic Chocolate Cupcakes. Give it a try, and tell us what you think!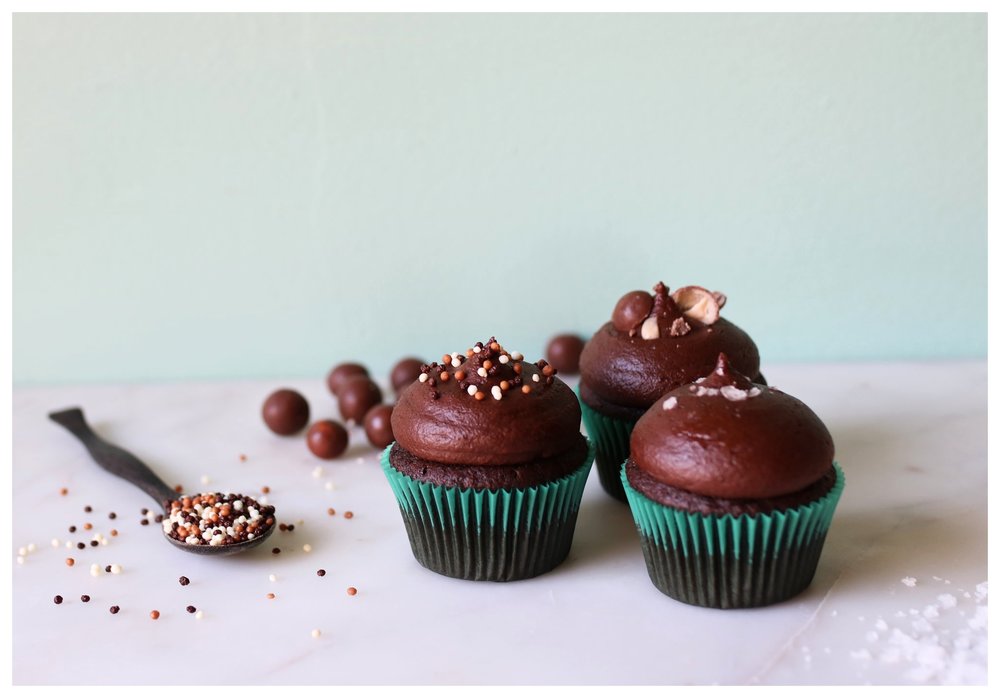 Classic Chocolate Cupcakes
Makes 24 cupcakes
Ingredients: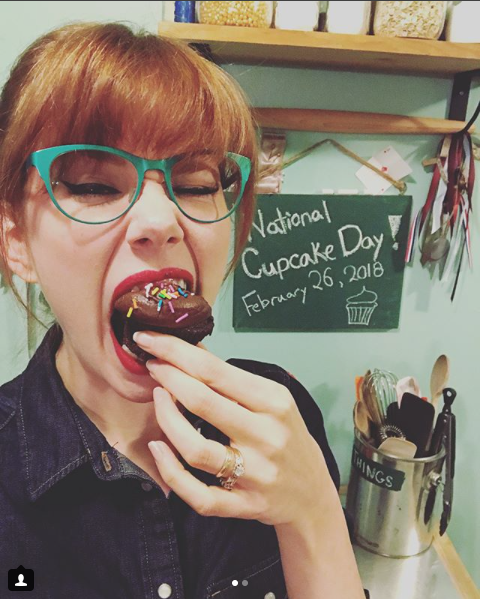 3 cups all-purpose flour
1 ½ cups good quality cocoa powder
1 tablespoon baking powder
1 teaspoon baking soda
¾ teaspoon kosher salt
2 cups sugar
1 ½ cups vegetable oil
4 eggs
2 teaspoons vanilla extract
1 teaspoon espresso powder
2 cups buttermilk
Preparation: 
Preheat your oven to 350F and line two 12-cup muffin tins with cupcake liners.
In a bowl, sift together the flour, cocoa, baking powder, baking soda, and salt. Give it a bit of a stir to combine, and set aside.
Using a hand or stand mixer, beat the sugar and oil together for 1 minute.  Add the eggs in one at time, beating well after each addition and continuing to beat for 2 minutes or until the mixture looks a little lighter in colour.
Meanwhile, in a small bowl, mix together the vanilla extract and espresso powder.  Add that to the buttermilk and set aside.
When the oil and sugar mixture is nicely creamed, add approximately a third of the dry ingredients and beat together until almost combined. Add in half of the buttermilk mixture and, again, beat just until almost combined.  Continue with this wet/dry method, ending with the last third of the dry ingredients.  Be careful not to over mix after the last addition! Over mixing will lead to peaked and potentially cracked cupcakes!
Scoop about ¼ cup of batter into each little cupcake liner and bake until a toothpick inserted into the centre of the cupcakes comes out clean, about 20–25 minutes.
Chocolate Buttercream
Ingredients: 
1 ½ cups unsalted butter, room temperature
1 cup good quality cocoa powder
5 cups icing sugar
½–¾ cup whipping cream
2 teaspoons vanilla extract
½ teaspoon espresso powder
½–1 teaspoon kosher salt
Preparation: 
Beat together the butter and cocoa powder and gradually add in the icing sugar.  The mixture will be a little crumbly, but that's where the whipping cream comes in! With the mixer running, slowly stream in the whipping cream, starting with ½ cup then increasing to ¾ cup if necessary.
In a small bowl, combine the vanilla extract with the espresso powder and add it to the buttercream mixture. Beat in the salt and use immediately.
About National Cupcake Day™
National Cupcake Day™ is a coordinated Canadian event to support local shelters, SPCAs, and Humane Societies. The event is supported by the Ontario SPCA and BC SPCA on behalf of participating local shelters, SPCAs, and Humane Societies.
Each year thousands of abused, abandoned and neglected animals across Canada are rescued by SPCAs and Humane Societies. The funds you raise for National Cupcake Day™ will have a significant impact on the shelters, clinics and animal cruelty inspectors in your community, ensuring that their life-saving work continues.
Register today and start fundraising! Visit nationalcupcakeday.ca
"Bake" a difference and organize your party today!
Categories
Testimonial
Thank you so much for all you do
Thank you so much for all you do every day to rescue animals in need. I can't imagine the terrible situations that you see every day.  It is great that you have the heart to help. Keep up the good work.
-Betty
Sign up for news and updates
Thank you for joining our online community.