Why you should consider adopting a senior pet
by Emily Cook | General Pet Care | November 12, 2018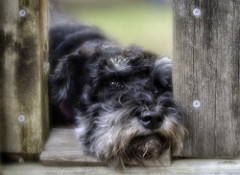 Considering the addition of a new pet? In the blink of an eye, the weather is changing and the long, dark nights of winter are on their way. What better way to enjoy those evenings than with an adopted senior pet?
There are many advantages to adopting a senior pet:
It's easy to find your perfect pet match with Meet Your Match®. An older pet already has a very readable personality, making it easier to make a great match between a pet and potential owner.
Most senior pets are already housebroken, and don't require frequent potty breaks late at night, like younger pets.
Mature pets are less likely to chew household items and be rough with furniture like a juvenile puppy or kitten, especially when provided with appropriate pet toys.
Older pets have the wonderful ability to develop a strong bond with a new owner.
Their activity level is already known, so picking an active pet to go running with (or a more relaxed pet to cuddle up with) can fit in well with your lifestyle.
Senior pets can have more advanced training, as well as increased socialization in new environments.
Many owners who have adopted senior pets reported that they felt a deep sense of satisfaction to be able to provide a forever home and soft place to land for a pet that may have had a rough start or unstable life. All pets adopted from the Ontario SPCA have also been spayed or neutered, have a bill of good health by our veterinarians, are microchipped and up-to-date on their vaccinations.
Giving a pet a great home could make the world of difference for one of our available senior pets. Search our Community Directory to find the Adoption Centre nearest you!
iAdopt for the Holidays
Come into any of our Ontario SPCA Animal Centres and take part in our iAdopt for the Holidays campaign from November 1st to December 31st and find your purrfect match! Our goal is to get as many animals placed into loving forever homes as possible this holiday season. Adopt a pet during the campaign and you'll be entered to win FREE pet food for a year from Royal Canin Canada. Visit:  iadopt.ca
If you already have a pet, enter our weekly contests by posting pics and sharing your story on Twitter, or Instagram with #iAdopt, or upload your photo directly to iAdopt.ca!
Categories
Thank you so much for all you do
Thank you so much for all you do every day to rescue animals in need. I can't imagine the terrible situations that you see every day.  It is great that you have the heart to help. Keep up the good work.
-Betty
Sign up for news and updates
Thank you for joining our online community.