Wildlife & You – Tips for keeping up a good relationship
by Emily Cook | Wildlife Fact Sheets | May 28, 2018
Every Canadian province is home to fascinating wild creatures that each play an important role in the ecosystem. Here in Ontario, raccoons, skunks and squirrels are frequently encountered. Unfortunately, conflicts sometimes arise as these animals try to co-exist with humans as their natural habitat continues to shrink.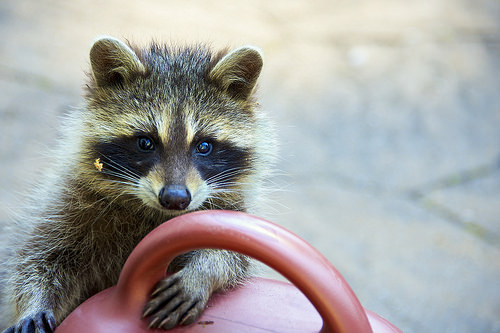 With education, however, there is help! The Ontario SPCA has plenty of resources on the Fact Sheets page of our website for wildlife proofing your property, protecting gardens and lawns, and species-specific tips. The Ontario Wildlife Rehabilitation and Education Network also has helpful resources to help solve our conflicts with wild animals. Choosing the "Wildlife Help" link will guide you to strategies for dealing with many animals.
The important thing to keep in mind is patience and persistence; the targeted animal will vacate in time if life becomes too uncomfortable or insecure. An educated, yet compassionate approach, keeping in mind our responsibility to keep property in good repair and not unwittingly provide food and shelter, will discourage squatters.
The Ontario Wildlife Rehabilitation and Education Network  also provides information on assisting wildlife in need. However, it stipulates that wildlife rehabilitation requires a license from the Ministry of Natural Resources and Forestry and that only the MNRF website provides a definitive and accurate list of licensed rehabbers. There are strict rules in place to ensure wildlife is rehabilitated properly.
With spring upon us and summer on the way, it's important to learn more about the animals that share our province. Education and safeguards now will help make it possible to enjoy wild creatures in our beautiful natural spaces!
Categories
Thank you so much for all you do
Thank you so much for all you do every day to rescue animals in need. I can't imagine the terrible situations that you see every day.  It is great that you have the heart to help. Keep up the good work.
-Betty
Sign up for news and updates
Thank you for joining our online community.