Wishing a Happy Retirement to our dearest receptionist Diane Porter
by Ontario SPCA and Humane Society | Interesting | April 13, 2023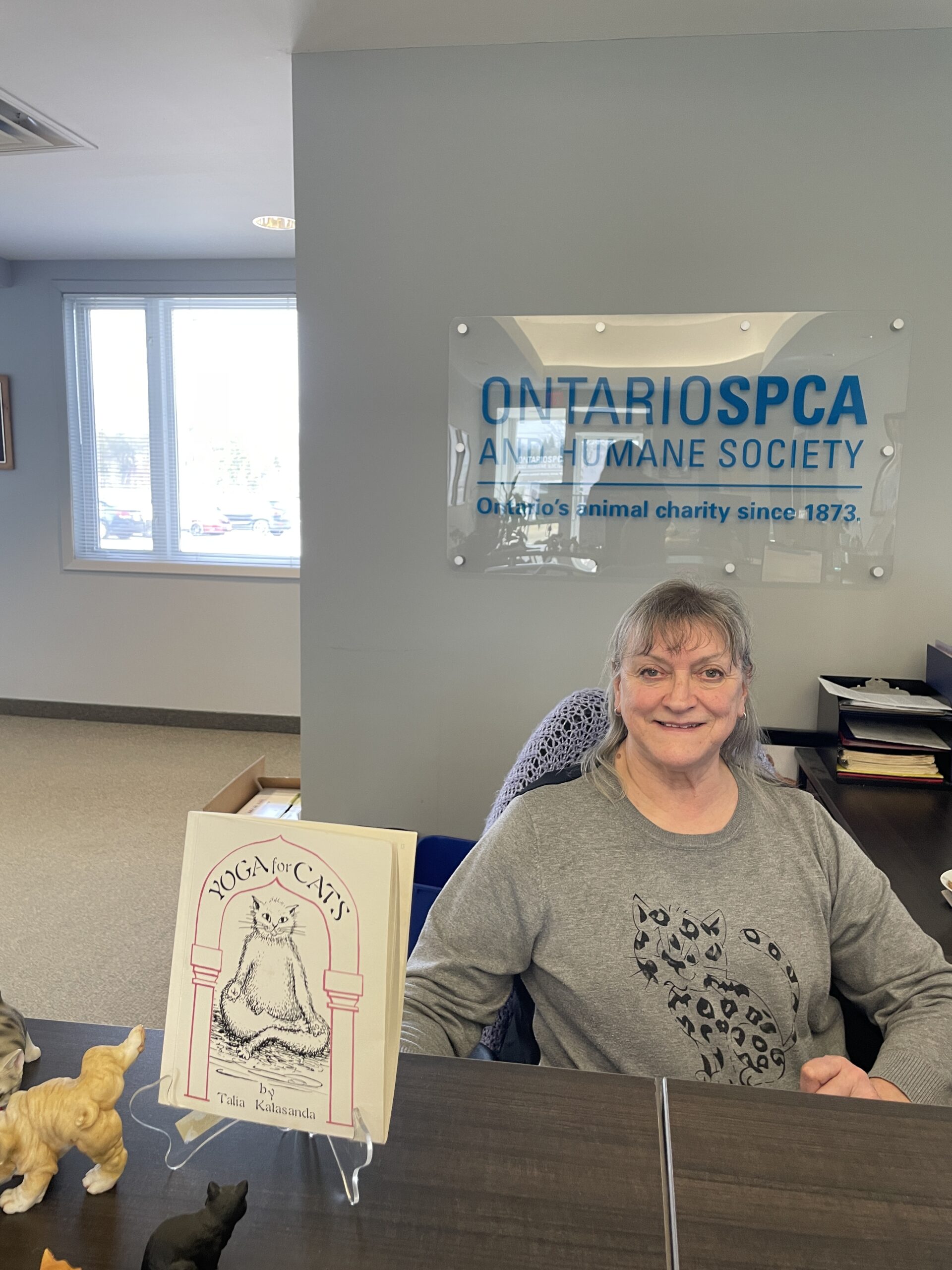 Diane Porter has been a friendly face and voice of the Ontario SPCA and Humane Society as a receptionist for 19 years and is ready to step into her next chapter of retirement.
Getting started at the Ontario SPCA
Back in 2004, Diane was hired in the veterinary clinic as an Animal Care Attendant.
Diane became proficient at restraining, pre-op prep and recovery, developing x-rays, and more. She loved preparing the cages with colour coordinated linens for patients, visiting the laundry room and selecting that day's 'décor' from the shelves.
Always ready to lend a helping hand
Coming from a hospitality management background, Diane was very familiar with the phrase "If there's time to lean, there's time to clean," and she was always on some kind of cleaning project.
"If they were short-staffed in rehab I would clean and feed a cat room or two, fold some laundry or do some dishes. I did the dog rooms one time and after being dragged through the spring mud on my bottom and taking in the rich scent of dog poo all day, I developed an intense respect for the 'dog people,'" says Porter.
Diane loved working at the Society and interacting with the people she met. When she heard of an opening at the reception desk at the Provincial Office, she applied and got the job!
Switching over to the reception desk
Caring for animals continued to be a passion for Diane. Almost immediately after her hiring, Diane began to foster the "bottle baby" kittens and feline mothers who had just given birth. She did this for five years or so and always had kittens at the reception desk, bottle feeding and massaging. Visitors got a kick out of that scene when they came in to donate, and colleagues often stopped by for a "kitten break."
"The never-ending parade of sweet kittens that were brought to my desk brings to mind the very first one I had to relinquish for adoption – a heart-breaking moment, but there was always another one needing care, so no time to grieve. It became a celebration as I watched our adoption staff find loving homes for 'my babies,'" says Porter.
Over her years as a receptionist, Diane "took ownership" of the lobby at our Ontario SPCA Provincial Office, supplying decorative accents and some furnishings. Diane felt that people who call for services or guidance would need other available options if we were not the right source for their needs. Callers should not be left wondering "What now?" – they should be shown options and given hope, so she set about gathering and compiling answers.
Diane recalls many fun memories from working at the animal centre – like the parrot who made sounds exactly like a banging, uneven washer load and water running down a drain – he eventually added cats meowing and dogs barking to his repertoire. Also, memories of the goat and a pot-bellied pig that used to wander the rehab halls. Watching the magic of kittens being born and the healing of sick or injured animals in the clinic was a great experience.
The only way to leave is to retire, "onto the next adventure"
Though she hadn't planned on being at the Ontario SPCA this long, Diane says it seems that working here is like reading a great long book – you just can't put down the 'never ending' story, so the only way to leave is to retire.
"Ending my career in the workplace couldn't be better anywhere else. The leadership, guided by a board with clear vision, is expert at keeping everyone focused on the next step. I will miss walking these halls but thank goodness for the technology that can keep the Ontario SPCA close at hand."
"I like to say, 'on to the next adventure,' so now it's time for a new one. We have found 26 acres of beautiful forest near Algonquin Park and the home we have been building is about ¾ finished. I certainly will have lots to do! If I live long enough to see it done, I can do neat stuff like beekeeping or furniture refinishing. Thanks to all for the love and I'm sending it right back around!" says Porter.
We wish Diane all the best in her retirement. Thank you for all that you have done for the Ontario SPCA and Humane Society and animals across the province!
Categories
Testimonial
Your dedication and support
It is with and because of your dedication and support that helpless animals are being saved. Thank you for everything.
-Wendy
Sign up for news and updates
Thank you for joining our online community.