Working cats find the purr-fect home
by Ontario SPCA and Humane Society | Interesting | March 29, 2021
You may have heard the term "working dog," but have you heard of "working cats?"
Working cats
One of the goals of the Ontario SPCA and Humane Society when rehoming animals is to find the right home for each animal in its care. Community cats, which some people refer to as feral cats, require alternative homes due to their lack of socialization. The Ontario SPCA is giving these cats "jobs" as working cats.
As former street cats who are used to outdoor life, working cats are not typical indoor pets and have no desire to be lap cats. However, what they lack in social skills they make up for when it comes to keeping vermin problems under control.
The cats, sometimes referred to as feral cats, are spayed/neutered, microchipped and vaccinated. In exchange for daily food and water, veterinary care and shelter, they're ready to go to work providing vermin control at places such as barns, workshops, greenhouses and garages.
Willow and Maple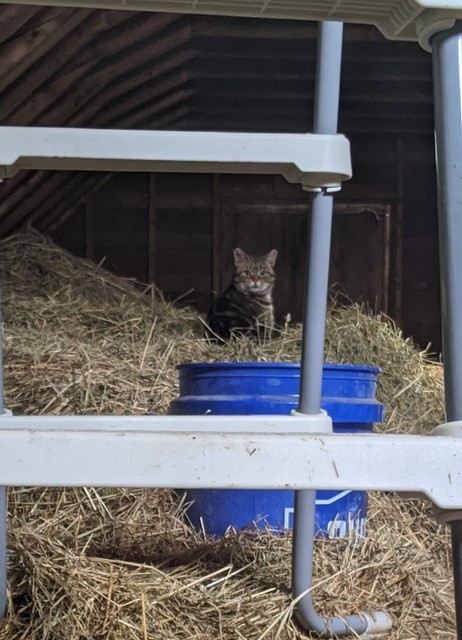 Chelsey Bannon and her husband Matt adopted two working cats, Willow and Maple, through the Ontario SPCA's Working Cat Program in November 2020. After doing a bit of research, the Bannons thought working cats might provide rodent control for the barn on their one-acre property in Cambridge.
For the first few weeks, the cats were contained to the loft area of the barn. Keeping the cats in an enclosed space during the initial phase of adoption is critical to helping them get accustomed to their new home. It reinforces that they have a safe, warm space where they can expect to receive food and water.
Willow and Maple now know the loft is their home. They feel safe there and, even though they can come and go as they please, they always return. The two cats have settled into their new home and when they aren't working taking care of rodents, they can often be found cuddled up together, snoozing, in the hay in the loft.
"They are more comfortable with people now," Chelsey says. Willow will greet Matt when he brings food and doesn't mind him staying nearby as she eats. Maple, however, is still quite elusive. It's a trait not at all unusual for working cats. "I have only seen her face occasionally," Chelsey says. "She is still very shy."
When Willow and Maple aren't on duty, wandering the Bannons' property, they climb into the loft and play in the hay or find a secluded spot to sleep.
"They have quite the life," Chelsey says. "They are beautiful cats."
For more information on the Working Cat Program, visit ontariospca.ca/adopt/working-cat-program
Categories
Testimonial
Dogs only ask for your love and attention
Dogs only ask for your love and attention, nothing else. Thank you for everything you do!
Christine
Sign up for news and updates
Thank you for joining our online community.