You don't give up on family: Zoot's story
by Ontario SPCA and Humane Society | Happy Tails | December 30, 2021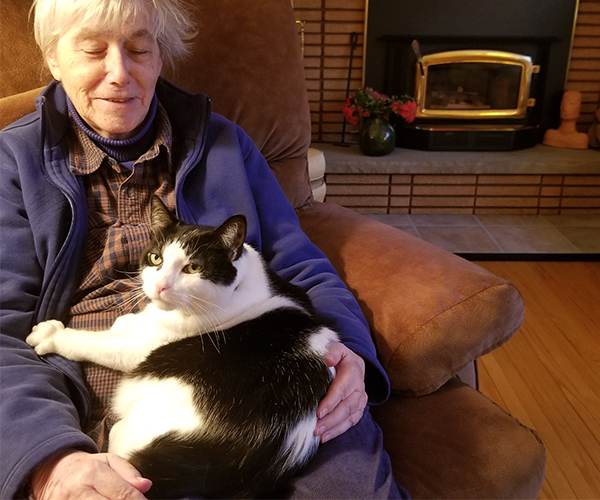 Guest post by Heather Jobe, Community Development Coordinator, Ontario SPCA and Humane Society.
I meet hundreds of animals a month, and to me – to the whole team at our animal centre – all the creatures we care for become family. And you don't give up on family.  
This sentiment has really resonated with me lately, with the many senior animals, like 12-year-old Zoot, who have come into our care. And while these darling old souls often require costly medical care or special diets, our team stays determined to find them the perfect home to enjoy in their golden years. These senior friends never give up hope, and neither do we!  
Zoot's story
Zoot's story is the perfect example. When Zoot's family could no longer care for her, we took her into our care with the goal of finding a new loving home. 
It took two months before Zoot found the purr-fect match. Finally, a caring family came along and just knew Zoot was the one for them. Zoot is now called Zoë and is fitting in famously in her new home. 
"She is such a well-adjusted kitty," her adopter reports. "And despite being offered two different cat beds, Zoë has chosen my dad's chair as her bed of choice. It's so sweet as his chair has been empty since he passed away in 2019." 
Thinking of Zoë knowing love again and being cuddled up in her newly claimed chair makes me so happy. But I do find my thoughts returning to all the older animals still in our care, patiently waiting for their forever family. 
Help cover the long-term costs of care for senior animals who take a bit more time to find their forever family 
Knowing that our dedicated community members step up to help the animals still waiting for homes is reassuring. With your support, I know they will find the loving family they are meant to be with.  
Categories
Testimonial
Thank you for looking after these animals
Thank you for looking after these animals — I would love to have them all in my house!
Ulla
Sign up for news and updates
Thank you for joining our online community.