5 snowy activities for you and your dog to enjoy!
by Emily Cook | Dog Care | November 13, 2017
Winter has come already with snow, cold, and ice! But do not fear, we have some activities for you and your dog to make the new season lots of fun.
Check out these tips from our blog, "Want to build a snowman?": Outdoor activities for your dog.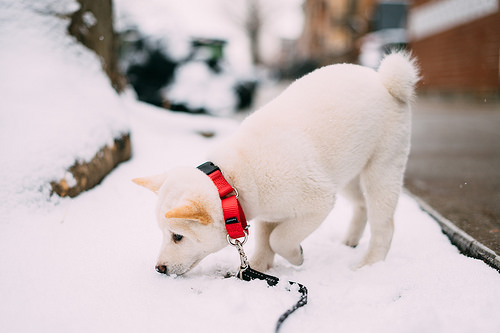 Short but brisk walks
It may be cold out, but your dog can still get a lot of enjoyment from walks! If you keep the walks short, but brisk, your dog will still get a good amount of exercise, but you can ward off the cold.
For signs of when your dog is getting too cold, check out this previous post on the "Cool" test. Your dog may also need some extra protection depending on their breed, so be mindful of that when heading outside.
Play Dates
Get together with some of your friends or family who have dogs themselves! Meet at a dog park or one of your houses and give time for the dogs to play together. They'll use up a lot of energy this way and get a lot of exercise. Plus – when dogs are together they come up with their own outdoor activities!
Snow Hikes
For dogs who love a romp through the snow, consider finding some hiking trails near you to take your dog on. Keep in mind the "cool" test and if your dog needs extra protection to stay warm.
Skijoring
Another great activity for snow-loving, bigger dogs is skijoring! This is when your dog pulls you while you're on skis. If you're going to attempt this winter activity, introduce your dog to it slowly and make sure they enjoy it and can safely carry you.
Fun in the snow!
If you have children heading outside for a snowball fight, or to build a snowman – include your dog in the activities! Just make sure to keep an eye out for if they're getting too cold or are uncomfortable in any way.
That should get you started! Enjoy the beautiful, frigid, stunning, terrible, and amazing cold weather while it lasts – and keep safe!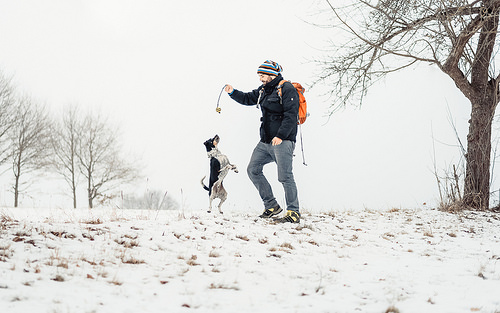 Categories
We have supported the OSPCA since 1951
We have supported OSPCA since our arrival in Canada in 1951.  Keep up the greatest  T.L.C. for animals.
-Paul & Des
Sign up for news and updates
Thank you for joining our online community.