A Friendship Like No Other – Orion and Frank
by Laura Therrien | Happy Tails | July 18, 2013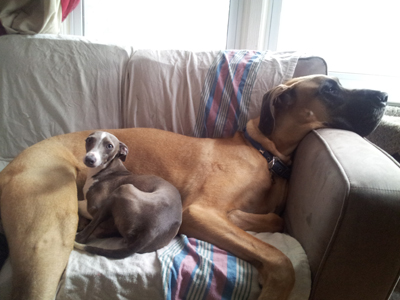 Orion was adopted from the Ontario SPCA Barrie Branch in July of 2010.  At 6 months old, this beautiful Great Dane was surrendered due to the health of his previous owner.  Luckily he was adopted by one of the loving shelter staff and has spend the last three years being loved and cared for.
Then came Frank,  a timid Italian Greyhound, who came to the Ontario SPCA Provincial Education & Animal Centre (PEAC) from a puppy mill removal.   Frank was a sweet boy but was very shy around others and his new owner wasn't sure how he would react around Orion but decided to give it a try.
At first, Frank was extremely scared when she brought him home, but after a bit of time, he is finally coming around.  Orion was great with Frank, showing him the ropes and taking him under his wing.   They are now best of friends and you will often find them cuddling together.
We are so happy Frank found safety in his giant friend.  What a cute pair they make.
If you are thinking of adopting a second pet, check out some adoption tips to help make the best decision for your family.
Categories
Testimonial
Hats off to you
To all kind-hearted and hard-working people at SPCA: hats off to you. I love animals and admire the work you do.
Kellie
Sign up for news and updates
Thank you for joining our online community.