A Happy and Safe Victoria Day to All!
by Adam Maiolo | General Pet Care | May 18, 2015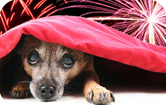 It's time sit back, enjoy some R&R and maybe even some fireworks!  To ensure you have a safe holiday we have a few tips for keeping your pets happy and safe this weekend.
Many pets can get anxious or scared when there are loud, sporadic noises outside such as thunder and lightening. While many people enjoy celebrating with fireworks, pet owners should keep their pets indoors. Not only could the loud noises frighten your pet, but sometimes firework debris left over in parks and neighbourhood spots can be a hazard to your pet. As always, never allow your pet to lick, nibble or chew on items left in public areas.  It is also important to have updated ID tags for your pet in the event they get scared and run away.
Try to take your dog for a walk before the festivities begin, and if they are frightened by the noises outside, ensure they have access to their "safety zone", whether it be their bed, crate or favourite nook in the house. Sometimes a favourite toy or treat can help keep them occupied.
You can also check our additional safety tips on the Ontario SPCA website.
We hope everybody has a great time this holiday weekend with their pets!
Categories
Testimonial
Thank you for your dedication
Thank you for your dedication to helping the animals.  Every animal deserves a loving home and to be treated royally.  Just imagine a day without animal cruelty.  What a wonderful day that would be!
-Joan
Sign up for news and updates
Thank you for joining our online community.