A look at what RVTs do and why you should become one
by Ontario SPCA and Humane Society | Campaigns | October 3, 2022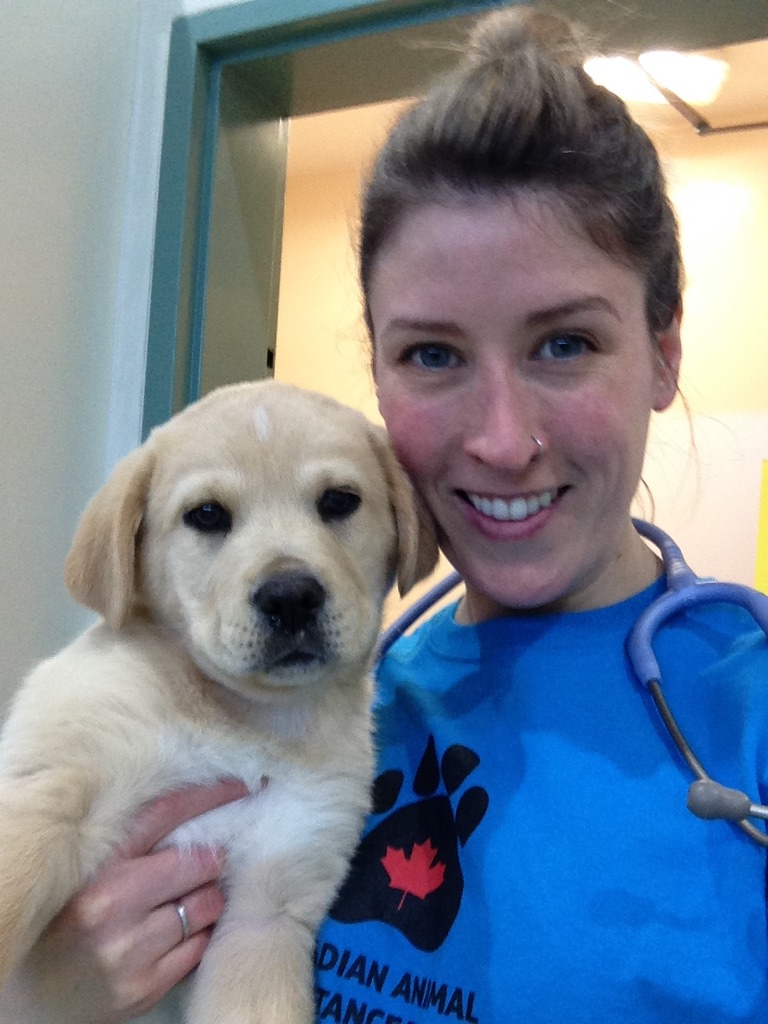 Registered Veterinarian Technicians are a skilled and knowledgeable part of the team at your local veterinary office, and they're also an integral part of the animal care team at Ontario SPCA and Humane Society animal centres.  
What do Registered Veterinary Technicians do?
In short, a lot! From routine animal care, administration and dispensing of medications and treatments to emergency animal care, RVTs are part of an animal's primary care team. Some of their areas of expertise include nutrition management, animal welfare and surgical preparation and assistance. Their education provides them with the theory and practical skills essential to offer the best possible medical care for animals. The Ontario Association for Veterinary Technicians (OAVT) lists some of their duties on their website: https://oavt.org/about/what-is-an-rvt/. 
Learn more about RVTs on our blog. 
What education is required
In Ontario, becoming a RVT requires graduation from an OAVT accredited veterinary technology course. Here are the steps to becoming an RVT in Ontario: 
Pass the Veterinary Technician National exam

 

Complete the OAVT Professionalism and Ethics Workshop

 

Submit a clear criminal record check

 

Satisfy continuing education requirements on a bi-annual basis to maintain your accreditation.

 
Why become an RVT?
With the explosion of animal adoptions during COVID, and the burnout occurring in the animal health care field, there is a great demand for RVTs. With their education and skills, they can alleviate some of the pressure on veterinary clinic. 
"It is an incredibly fulfilling career helping to save animals' lives," says Kristina Burns, an RVT who now works as Associate Dean for Health, Wellness and Sciences at Georgian College. "You are able to support ideal pet care and you can make a big impact on people and their furry companion's lives." 
Part of Burns' portfolio is the veterinary technician program. She devotes much of her personal time to volunteering for charities such as  Community Veterinary Outreach  
and Canadian Animal Assistance Team.  
"Empathy, compassion and perseverance are all qualities an RVT should possess," says Burns. 
"I strongly urge RVTs to volunteer with organizations that reignite their fire and passion for the industry."  
How does an RVT's role differ in an animal centre setting?
RVTs in a shelter environment need to be flexible, resilient, and creative says Dr. Stephanie Black, DVM, Chief Veterinary Officer, Ontario SPCA and Humane Society. 
"Some days can be overwhelming, but no two days are ever the same," shares Black. "Animal centre RVTs need to manage their time well and learn to do a lot with a little." 
The role of an RVT in a shelter environment is different than in a private practice setting. Black mentions that besides the typical roles that an RVT would normally perform, they are also required to be experts in enrichment and behaviour.   
RVTs working in an animal centre environment are skilled at FearFree® handling and trying to find ways to reduce stress for animals awaiting adoption to keep them happier and healthier. In most Ontario SPCA animal centres, RVTs are the experienced hands in the field. Veterinarians rely heavily on RVTs to detect illness and, under veterinary direction, treat a variety of illnesses and run diagnostics. "RVTs are irreplaceable!" says Black. 
Learn more about becoming a Registered Veterinary Technician in Ontario. 
Categories
Testimonial
Thank you for looking after these animals
Thank you for looking after these animals — I would love to have them all in my house!
Ulla
Sign up for news and updates
Thank you for joining our online community.