Adoption Update – Cutie the Horse
by Emily Cook | Happy Tails | January 10, 2014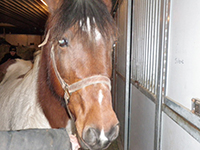 Cutie, a paint mare pony type horse, has been adopted! We're so happy for Cutie and her new family.
Are you looking to adopt a new companion? The Ontario SPCA has other horses available for adoption including Lucy, Montana and 3 Sox.
To view our horses currently available for adoption, please click here.
Categories
Thank you so much for all you do
Thank you so much for all you do every day to rescue animals in need. I can't imagine the terrible situations that you see every day.  It is great that you have the heart to help. Keep up the good work.
-Betty
Sign up for news and updates
Thank you for joining our online community.