Adoption Update on Bruins
by Emily Cook | Happy Tails | December 24, 2013
Bruins the Boston Terrier arrived at the Ontario SPCA Provincial Education & Animal Centre with a number of other dogs from an irresponsible breeder.
Bruins was missing an eye. On one of her trips to the vet, a staff member fell in love with her! She was adopted by her and she says Bruins is an absolute sweetheart.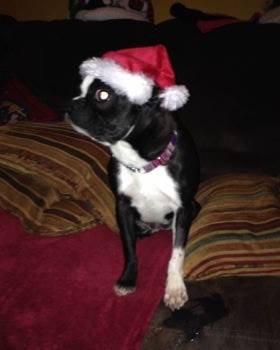 The Ontario SPCA Provincial Education & Animal Centre could not care for and find homes for animals like these without your generous donations!
Please continue to donate to help them cover the cost of caring for Bruins and other animals like her.
To learn more about Bruins' story and how to donate, click here.
Categories
Testimonial
We have supported the OSPCA since 1951
We have supported OSPCA since our arrival in Canada in 1951.  Keep up the greatest  T.L.C. for animals.
-Paul & Des
Sign up for news and updates
Thank you for joining our online community.