Adoptions Update!
by Laura Therrien | Happy Tails | June 20, 2013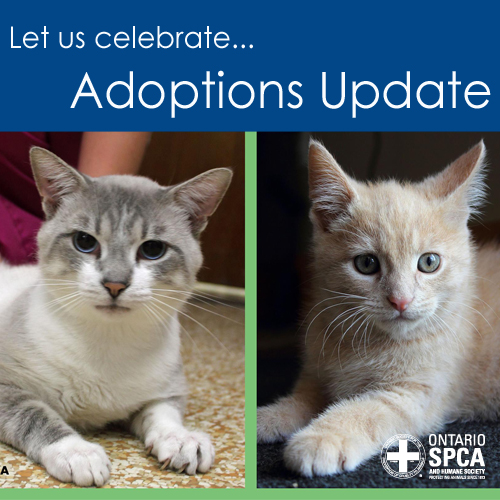 Toby and Sinatra are two of the lucky cats who are now in loving homes thanks to wonderful families.   These handsome fellows were  two of the 64 cats adopted from Ontario SPCA Branches throughout Ontario last week.
Along with Toby and Sinatra,  a total of 122 pets were adopted, including 50 dogs, 1 budgie, 1 degu, 1 guinea pig, 1 rabbit and 2 lovebirds!    We are so happy for all the animals.
Looking for your own special feline to add to your brood?  Now is the time to check out our wonderful cats for adoptions.   The Ontario SPCA Branches are holding a Showroom Cat Adoption Extravaganza from June 22nd to June 29th, 2013.   Contact your local Ontario SPCA shelter for more information.
Categories
Testimonial
Thank you so much for all you do
Thank you so much for all you do every day to rescue animals in need. I can't imagine the terrible situations that you see every day.  It is great that you have the heart to help. Keep up the good work.
-Betty
Sign up for news and updates
Thank you for joining our online community.