TREATS for ALL, FOUR LEGS OR TWO: Anna Olson Guest Blog & Contest
by Emily Cook | Contests News | January 28, 2015
Anna Olson, National Cupcake Day supporter and host of the Food Network Canada's "Baking With Anna Olson," guest blogs for us today to talk about why she chose the ingredients she did for her yummy Double Apple Pupcakes.
Click here to download the recipe card for Anna's Double Apple Pupcakes.
We all are fully aware how important a balanced diet is, and especially the importance of partnering it with regular exercise, and we try daily to abide by this – including our pets in this regime gives us a further sense of well being.
Part of successfully maintaining that balance is to also include little rewards, motivations for our good behaviours (eating all of our kale salad, going out for a power walk even when it's -10 outside) and it's easy to see how our pets respond the same way. So why not reward our dogs when they deserve it, but also do them the favour of offering a homemade, nutritious treat?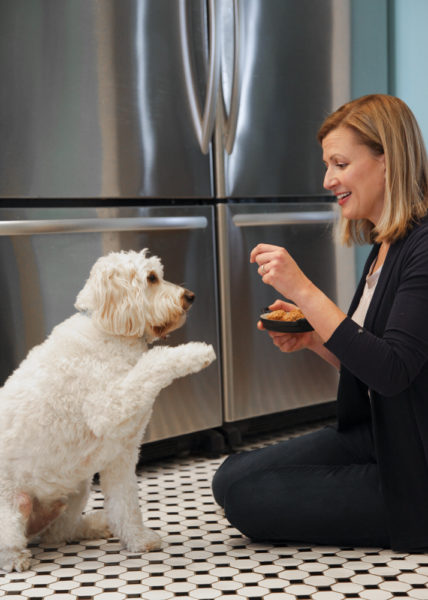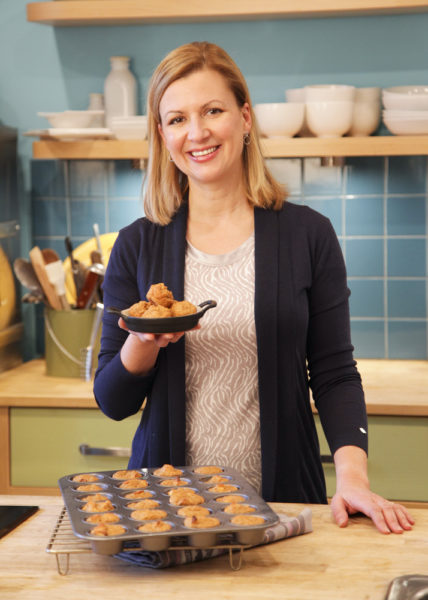 These pupcakes are a snap to make (get the kids to help), they freeze well (and make a cooling treat right from the freezer on hot days) and guess what…people like them, too! The lack of sugar and low fat nature of them makes them not as sweet or delicate as "people" muffins, but I have caught myself popping one in my mouth with an afternoon cup of tea!These Double Apple Pupcakes have been designed with nutrition and taste appeal in mind. Like people, dogs benefit from a healthy inclusion of vitamins and minerals in their diet. Using 100% whole wheat flour ensures fibre plus protein, while unsweetened applesauce offers vitamin C and additional fibre. Dogs have no need for refined sugar, so only a touch of molasses adds an appealing colour (more for our own benefit) but a little calcium and iron, too. A little olive oil is a healthy fat and can also help with dry skin, especially in winter (I used to put a spoonful of olive oil in my beagles' food in winter, to prevent itching). The added cinnamon is for the human appeal – they smell delightful when baking.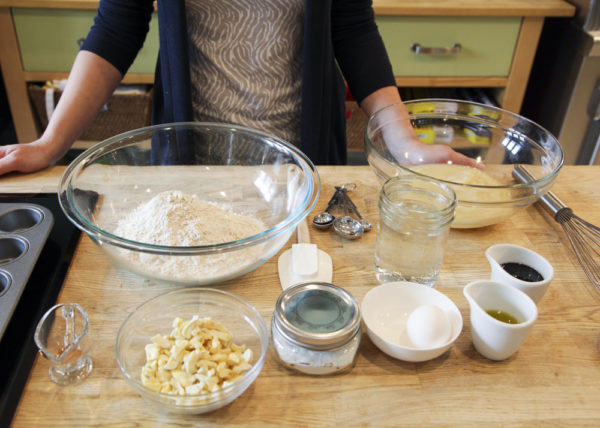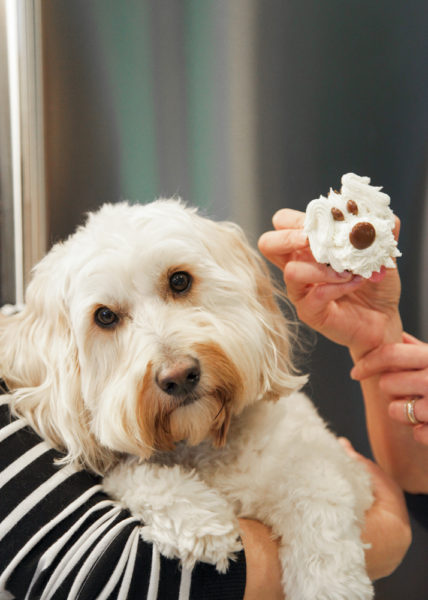 I hope your beloved pet becomes as big a fan of these healthy treats as my taste testers.And I should qualify this recipe by saying that I put it through extensive blind tastings. In order to decide on this particular recipe, I made 2 types of pupcakes – this apple version and a pumpkin peanut butter version. I took the votes of volunteer taste testers: Chewie the Labradoodle, Sparky the mini Collie, Shadow the German Shepherd, Maple the Beagle mix (and even Millie the cat). I would hold each treat in a closed hand and each dog would pick with their nose which treat they wanted – The Double Apple Pupcake was the treat of choice!
CONTEST
We want to see your cupcake creations! Show us your pet-inspired cupcakes (maybe a fun cupcake with a cat's face or dog face?) on Twitter and Instagram. We'll pick our favourite and the lucky winner will win a signed copy of of Anna Olson's "Back to Baking" cookbook.
Twitter Instructions: Tweet your creation to @OntarioSPCA with the hashtag #CupcakeDay
Instagram Instructions: Tag @ontariospca in the photo description of your cupcake photo and use hashtag #CupcakeDay
Contest runs until February 5th and the winner will be announced on February 6th.
Good luck everyone!
Categories
Thank you so much for all you do
Thank you so much for all you do every day to rescue animals in need. I can't imagine the terrible situations that you see every day.  It is great that you have the heart to help. Keep up the good work.
-Betty
Sign up for news and updates
Thank you for joining our online community.