Behind the Paw – Visit to the P&G Pet Health & Nutrition Centre
by Emily Cook | Interesting News | May 31, 2012
I was invited by our friends at Iams to participate in the Behind the Paw Summit in Dayton, OH. This event invited guests for a tour of the P&G Pet Care facilities as well as welcomed an open roundtable discussion, with the P&G Leadership Team, on animal welfare.
Our first tour was to the Pet Health & Nutrition Centre (PH&NC). These facilities are where the P&G Pet Care team test on animals the food they sell to our pets. Now I know for most of you when you hear "test" you may be thinking probes and needles, this was nothing like that. One of the first statements provided by Dr. John Burr, a clinical scientist at the facilities, was that they do not do any invasive internal testing on the animals. As a guideline for testing they have stated that they will only perform a test on an animal if a human person has voluntarily offered to participate in the same type of testing for other testing programs.
Each animal that is brought into their care is there for a specific test and has a specific job, whether it's to test food preference or the effect the food has on the animal's coat and overall health.  If the animal isn't able to participate in the testing – for example, they shared a story of a cat that figured out how to bypass their structured feeding program and was eating all the food, as a result they could not properly analyze the results of his food consumption – they will place the animal up for adoption in their P&G adoption program. I'll speak more to this later. The testing programs are designed so that they are able to track what animal eats which food, and then they test the urine and bowel movements of the animal. Even the kitty litters are specially designed so that they are self-cleaning. The cats don't even know they are not using a normal kitty litter pan.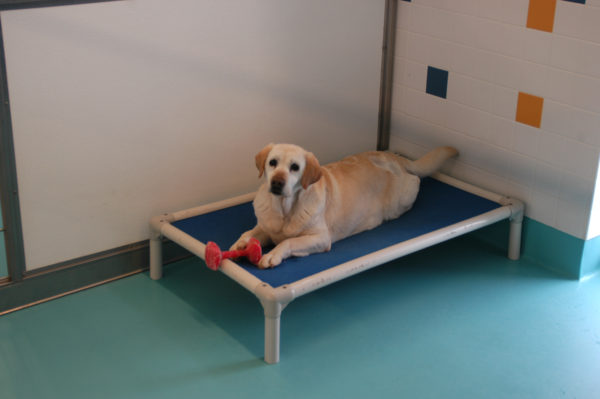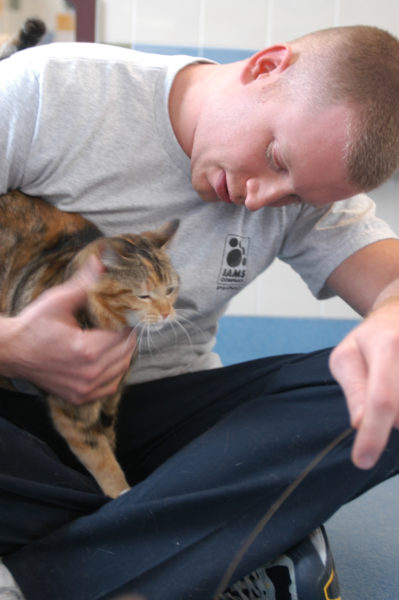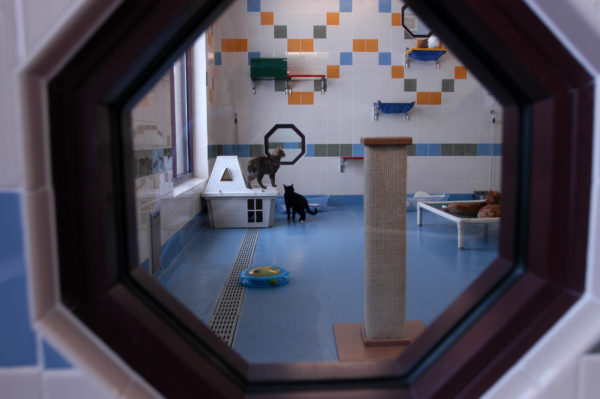 We were walked all around the PH&NC seeing the outdoor dog runs, dog kennels, outdoor cat rooms and cat housing areas. I can honestly say, these animals are getting the best care while they are staying with the P&G team. P&G actually hire staff who's sole job is to play with the animals!
In the Dog rooms, half the floor is heated so in the winter the dogs won't get cold.
Each animal has an option to go outside whenever he/she would like, through a doggy or kitty door.
One aspect I thought was amazing was when we entered the dog kennel area, the dogs barked to greet us, but then they settled down…. just like I would have expected when walking into someone's home. They don't show signs of being stressed or not enjoying their environment.
The animals truly seemed happy, content and well care for.
When the animal in their care has completed it's job the animal is placed up for adoption. P&G will adopt out the animals, for free, and will send the animals to you, again for free, anywhere in North America. The wait-list for one of these pets is 2 years long.
Another feature of their program that I really liked was the fact that during the animals' stay at the P&G Centre the animals' future adoption is incorporated into the care program. Each animal will be introduced to common household environments to help ease the transition from the facilities to a future home. We went to a room that looked just like a living room. It had a variety of different floors, a TV and was fully furnished. The goal is to familiarize the animal to this environment so that when he/she was eligible for adoption he/she would be comfortable in their new home.
A few members of the tour actually added their names to the wait-list to adopt one of these animals. I would have too, if I knew my dog Roxy wouldn't give me the look of disapproval, when I finally got the new pet.
My overall feel for the facility was that the animals didn't really seem to notice that they were actually participating in tests. They were being cared for by vets and vet techs, staying in an environment designed to reduce stress and getting more attention than some regular household animals.
I walked away feeling comfortable and pleased with the efforts P&G makes to care for their animals.
Our next tour was to their manufacturing plant (aka, the place where I got to wear my hard hat!)
-Alison
@AlisonMCross
Categories
Testimonial
Your dedication and support
It is with and because of your dedication and support that helpless animals are being saved. Thank you for everything.
-Wendy
Sign up for news and updates
Thank you for joining our online community.