Behind the scenes with RVTs at Ontario SPCA animal centres
by Ontario SPCA and Humane Society | Interesting | October 13, 2022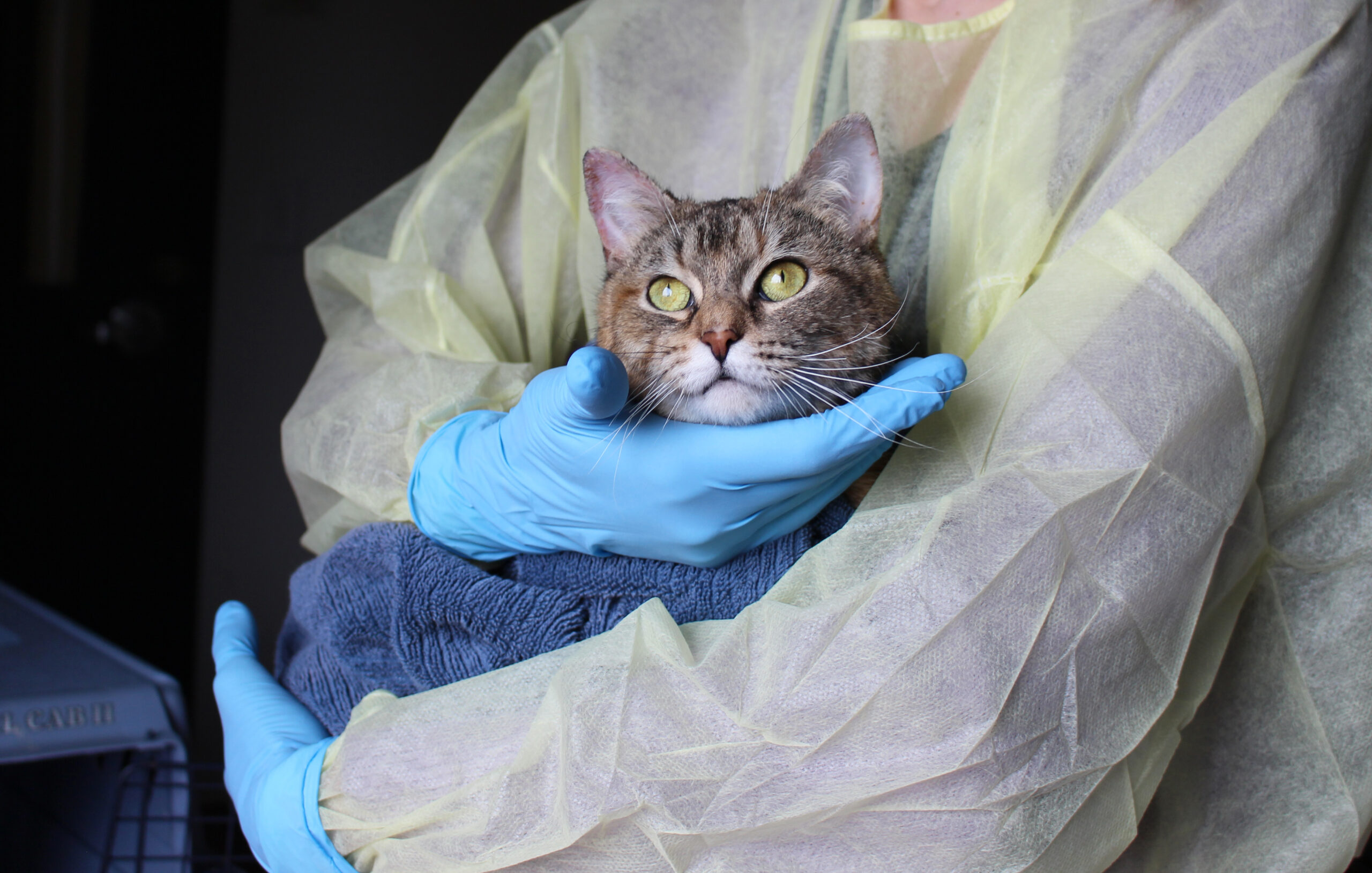 October is RVT Month! This month we're celebrating Registered Veterinary Technicians (RVTs). To kick it off, RVTs from our Ontario SPCA and Humane Society animal centres share a behind-the-scenes look at their typical day, and how their work is changing the lives of animals.  
What does an RVT do?
RVTs are responsible for overseeing the physical, mental, and emotional health and well-being of the animals in their care. This includes creating individualized enrichment plans, assessing medical needs, coordinating veterinary appointments and ensuring animals get any required treatments, such as deworming and vaccines. 
Aaron Archer, RVT with the Ontario SPCA York Region Animal Centre, says tailored care plans for each animal help animals adjust to life in a shelter environment and prepare them for a loving home. 
"There's a lot of care that's taken for animals who come in and everyone is treated as an individual, both from a medical as well as emotional perspective," says Archer.  
Emphasis on enrichment
Enrichment and socialization are key in these individualized plans. RVTs are responsible for creating enrichment plans, and establishing guides for the care team. This means they create programs meant to engage the animal's natural senses and instincts, to enhance the animal's quality of life while they are in the animal centres with us. RVT's are responsible for overseeing these enrichment plans, and ensuring that our animal care team is trained and equipped to provide a variety of enrichment activities each day. 
Jocelyn Rutgers, RVT with the Ontario SPCA Midland & District Animal Centre, says enrichment plans follow six categories; taste, scent, sight, touch, hearing, and training/play. The purpose is to ensure that we are engaging all of an animal's senses on any given day. This can mean a jingle ball and reading to an animal one day, and toys and grooming the next.  
"Every animal is different and enjoys different things, so we need to tailor our plans to ensure we're giving them things they enjoy," Rutgers says. 
Supporting fosters
RVTs work closely with foster volunteers, ensuring they understand any medical or behavioural issues that need to be addressed. RVTs also check in with volunteers regularly, and provide enrichment plans to follow. 
"We want our foster volunteers to feel supported, so we talk through scenarios," says Archer. "We're there for questions, and we make sure they know where to turn for help when they need it." 
Learn more about becoming a foster volunteer with the Ontario SPCA.  
For the animals
Rutgers says the most rewarding thing about her job is watching progress with animals who arrive fearful, and leave for their new home happy and comfortable.  
"The resilience of animals never ceases to amaze me," says Rutgers. "Every animal who comes into this centre is cared for and loved like our own animals at home. I try to develop a bond with every animal who comes in; I love them to the best that I can and care for them like they're my own animals." 
Archer has a similar soft spot for fearful animals. "We have a lot of responsibility, but it really is a privilege to be part of that process," he says. 
You can help RVTs deliver important enrichment for animals by gifting a toy to an animal waiting for adoption through the Ontario SPCA's Paws and Give store. 
Categories
Testimonial
Thank you so much for all you do
Thank you so much for all you do every day to rescue animals in need. I can't imagine the terrible situations that you see every day.  It is great that you have the heart to help. Keep up the good work.
-Betty
Sign up for news and updates
Thank you for joining our online community.