Birdwatching 2.0
by Emily Cook | Interesting | August 18, 2010
The other day I was in the backyard, relaxing after a considerable wrestling match with my lawnmower (which, by the way, the lawnmower won). I saw Jersey staring silently at something in the trees and figured it was the evil squirrels teasing her again. To my surprise, it was not the squirrels but a really unusual-looking bird. It had a red body, a black head and an orange beak.
It was so exotic-looking that at first I thought maybe someone had misplaced their pet. Moments later, a similar bird flew into sight and they began chirping at each other. I found myself watching them interact for quite a few minutes, mezmerized by their quirky voices and colours. Then it hit me: I knew nothing about birdwatching.  Intrigued by my new friends in the backyard, I decided to do some research.
Birdwatching, like many other hobbies and sports, has been evolved by technology and the internet. Avian enthusiasts can now connect with others and share stories, photos and more through chatrooms and bulletin boards. Social networking has empowered conservationists to spread the word about endangered species and how people can help preserve the habitats of birds in their areas. One of the most interesting features I found was a website that featured a search engine where you could select various options (such as size, bill shape, wing shape and more) to try and find the bird you are looking for!  There is even an application for mobile phones called "iBird" where you can search for birds on your device. It sure makes things a lot easier if you are birdwatching in the middle of the Algonquin forest.
Tips for birdwatching include:
Observing colours
Noting leg length and the bird's size
Determining feeding habits
Recording information on the habitat
Drawing any relevant markings
Listen for the bird's call/song
(A tip I found included keeping your eye on the bird… I feel that pointing it out seemed a bit redundant considering the hobby's title includes the word "watching"!)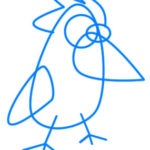 After playing around with the bird search enginge, the closest match I came was the Red Crossbill. I listened to the call and although it didn't quite match the chirp I remember, maybe its a related cousin? (I don't think I will be qualifying for any sort of birdwatching prizes anytime soon.)
For those who are new to birdwatching, you can visit a birdwatching website that is local to your area to meet up with members who are excellent sources of information on birdwatching and tips for newcomers.  Birdwatching is a fun and interesting way to interact with the local wildlife, from a respectable distance.  It can be done with family members and even young children.
As for me… I think I will stick to horses.
Categories
Testimonial
Thank you for looking after these animals
Thank you for looking after these animals — I would love to have them all in my house!
Ulla
Sign up for news and updates
Thank you for joining our online community.