Cesar the cat is enjoying his residency at the Four Seasons Lodge
by Ontario SPCA and Humane Society | Happy Tails | May 29, 2023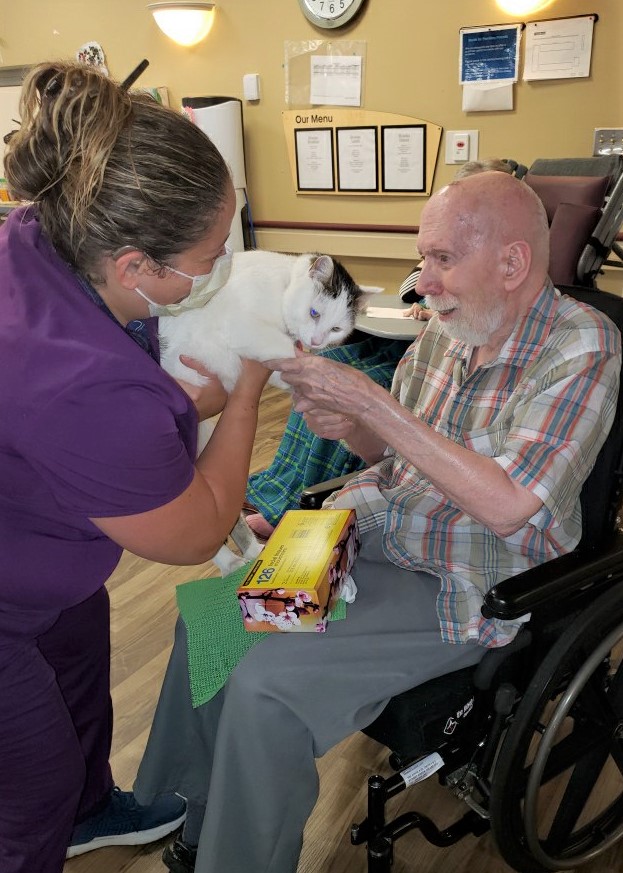 When Cesar arrived at the Ontario SPCA Renfrew County Animal Centre, the team knew right away that he is a special cat. Cesar instantly charmed everyone and was exceptionally affectionate. He is a cat who loves attention and would come in for a snuggle any chance he had. We knew Cesar would make a great companion and we had to find him the purrfect home.  
One of the animal care team members suggested placing Cesar in a long-term care residence. Through community partnerships, the animal centre has successfully placed cats as fosters in long-term care homes with great success and we knew Cesar would make the perfect candidate.  
Cesar checks into the Four Seasons Lodge
As it turned out, the Four Seasons Lodge, a long-term care home in Deep River, was looking for a cat to brighten the lives of their residents and staff. They had been thinking about welcoming a companion animal into the lodge for mental health benefits. 
The Human Animal Bond Research Institute reports that animal-assisted therapy was shown to significantly reduce loneliness among people in long-term care facilities. In addition, research suggests that the human-animal bond can play an important role in the quality of life for people living with Alzheimer's or dementia. 
Read our blog How being a pet parent benefits mental health for more interesting findings on how companion animals benefit mental health. 
After some careful consideration, the team at the Four Season's Lodge decided that a cat would make the perfect therapy animal. They reached out to the Renfrew County Animal Centre to begin the process of finding a suitable companion. As expected, Cesar charmed his way into their hearts. Cesar found his home at the Four Seasons! 
Helping the community
We recently caught up with Abbie Verch, Recreation Worker at the Four Seasons Lodge, to see how Cesar was settling in. Cesar has bonded with multiple residents and is loving all the attention. He goes from room to room, getting pats and snuggles from anyone who wants to give him some love. He has certainly provided some entertainment for many of the residents. You will often find him sleeping right on their beds at night, curled up and providing luxury. 
"I would recommend any long-term care home introduce a therapy animal, as it provides comfort for those lonely times. Cesar gives them something to look forward and they love giving him treats," says Abbie. 
Cesar is always part of the action and loves taking part in special events like Hawaii night. He especially loves accompanying the residents outside to watch the birds and enjoy some fresh air. He has brought so much joy to so many people at the Four Season's Lodge and we couldn't be happier to hear that he is thriving in his new home. 
Interested in adopting? Visit ontariospca.ca/adopt to see our animals available for adoption. 
Categories
Testimonial
As an animal lover all the work you do
As an animal lover all the work you do to help ensure that every dog and cat can find their forever home that is filled with love is greatly appreciated.
-Louie
Sign up for news and updates
Thank you for joining our online community.