Is your dog ready for the hiking trail?
by Ontario SPCA and Humane Society | Dog Care | September 14, 2016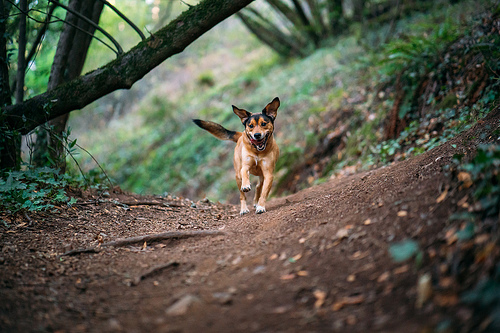 Hiking can be a very fun summer activity, and great exercise for both you, and your pet! But there are some things to consider before you hit the trail, to make sure your pup is ready.
As you're getting in shape hiking with your dog, why not register for the Ontario SPCA's annual Friends For Life! Walk? If you'd like to get ready for the event by hiking with your dog, here are some tips to keep your favourite four-legged friend safe and secure from our blog Into the Great Wide Open: Hiking with your K-9 companion:
Your Dog's Age and Physical Fitness Level
Older dogs in poor physical health are happy to stay home with friends or caregivers; they'll also be much safer. Healthy dogs are typically eager to hit the ground running (literally!), just make sure they have the physical conditioning to keep up with the intensity of the hike. Most importantly, keep your dog comfortably cool and consistently hydrated, hiking can be hard work! Your veterinarian can help you decide the level of activity appropriate for your dog.
Park and Trail Rules, Regulations and Etiquette
Before you pack your car and head out, call ahead to ensure the park or trail is pet-friendly. Some parks and trails prohibit dogs, so avoid frustration by doing your research ahead of time and targeting dog-friendly sites. Even in dog-friendly locales, leashes are a safety must and control of your dog should be maintained at all times. Take care to select a leash that will afford your dog a degree of comfort and freedom, but at the same time possess the strength and durability to keep him safe and secure.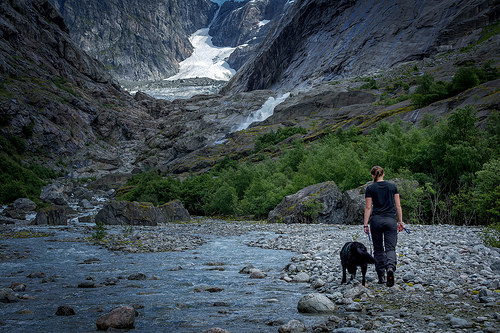 Leash Free Hiking?
While it is tempting to want your dog to enjoy nature's solitude and sprint about the trees untethered, be vigilante about safety. Besides potentially disturbing other hikers, your dog could get lost in a large, unfamiliar space and find himself frightened and confused. A strong, safe leash is your dog's safest option and his best defense against becoming lost or injured. Don't forget to secure your dog's collar, complete with an identification tag listing your family's contact information
Supplies
You've researched your hike route and ensured your dog's safety by choosing a strong leash and identifying him in case of loss. Now it's time for provisions!
Food and water are essential supplies to bring when going on a hike. A lightweight, collapsible water dish is a must-pack and protein-rich food and treats will maintain your dog's strength. The entire family should take care to hydrate with clean, cool drinking water and your dog is no different. Try not to let your dog drink unfiltered water from puddles or bodies of water that may contain illness-causing bacteria.
Categories
Testimonial
Totally rock
All of your wonderful staff & volunteers totally rock. The amazing compassion and work you provide on a daily basis is incredible.
Laura
Sign up for news and updates
Thank you for joining our online community.