Fabulous Pet Toys
by Emily Cook | General Pet Care | June 17, 2010
As the temperature rises this summer, many of us love to head outdoors and enjoy the sunshine! But as we all know (think back to the record-breaking summer 2008) that in every summer, a little rain must fall. On those soggy, humid days it can be better to retreat to the indoors. If you need some ideas for toys this summer for your dog or cat, check out the list below.
Keep in mind that you should select toys that are right for your pet's personality to get the biggest bang for your buck. While some pets are active and enjoy toys that move, squeak or bounce, others may prefer something to chew on or simply cuddle with. Above all else, always keep an eye out for any signs of deterioration or protrusions from any of your pet's toys that could compromise his or her health. When in doubt, throw it out! (Or you can ask your veterinarian as well.)
Top 5 Toys for Dogs

1. Kong
This popular dog toy is favored because it is virtually indestructible, comes in a variety of shapes to play with and can be filled with soft foods (such as peanut butter) that will keep your dog occupied for hours. The Stuff-A-Ball option is great when filled with treats!
2. Tuffys
These are popular stuffed animals that have a "tuff-scale" and are designed for dogs that will tear the average stuffed animal apart in minutes (like Jersey!). Tuffys come in a variety of shapes such as barnyard animals and aliens, and they also have "JR" sizes for smaller dogs and "Mega" sizes for larger dogs. Toys have four layers of industrial-grade materials, and are 100% non-toxic to your pet.
3. The Leo
This is for dogs who love to use their heads. This "thinking dog's" toy creates a chewable puzzle for your pet, where you can put their favorite treat inside. You can buy various pieces that snap together to provide a variety of new puzzles for your dog.
4. Water flowers by Canine Genius
These neoprene flowers are excellent for the dog who loves to swim! They are colorful, they float and are specifically designed for water retrieval. Their soft material makes them useful for various sizes of dogs. Take them up to the cottage this summer and give them a try!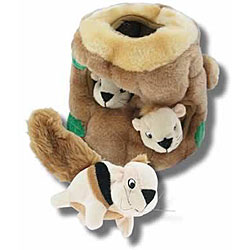 5. Hide-A-Squirrel
Another innovative toy that is designed for the thinking dog. You can hide treats or toys inside the habitat and watch your dog enjoy hunting through the habitat to pull out the squeaky squirrels to find their hidden treat! Also, if your dog gets too rough with the squirrels (such as Jersey would do, all squirrels are evil in her opinion) you can always buy replacement squirrels.
Top 5 Toys for Cats
1. Peek-A-Prize
This cat puzzle is a great way for your cat to utilize his or her natural predator instinct! You put the toys (small balls, toy mice, funny scented shapes) in the box and watch your cat pounce, paw and sniff their way to get the toys out of the box.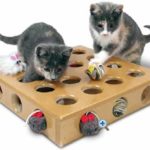 2. Panic Mouse 360
This neat toy is an electronic toy that has a wand with a small toy at the end. The wand simulates the unpredictable movements of a mouse and is guaranteed to keep your cat entertained for hours! (As with any electronic toy, it is best used under supervision.)
3. Da Bird
A great interactive toy that gives you the chance to have fun with your cat! Using a wand, the small feathered toy at the end bounces around and your cat's reaction is sure to make you laugh.
4. Chickadee Chirp
This environmentally-friendly cat toy will thrill your cat. Made from 100% postconsumer recycled materials and organic catnip, this cute little stuffed toy bursts into song with a push of your cat's paw. (And yes, it does have an "off" feature so there won't be any chirping at 2:00am!)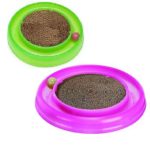 5. Star Chaser Turbo Scratcher
A small LED ball on a fixed track is a great way to encourage your cat to both play and use the scratching pad in the middle of the track. The ball lights up as your feline friends bats it around. Great for hours of play!
While playing with your pet and their new toy, remember it can take some time for your pet to warm up to it. Sometimes a bit of stuffing in a Kong or a pinch of catnip on a new soft toy will spark your pet's interest. If you have a great pet toy that your pet turned his or her nose up at, consider contacting your local animal shelter to see if they would be interested in the toy as a donation.
Categories
Testimonial
Three cheers for the volunteers!
Three cheers for the volunteers! Keep doing wonderful work, thank you!
Doreen
Sign up for news and updates
Thank you for joining our online community.