Facility dog gives hope to Hospice Simcoe patients and staff
by Emily Cook | Podcast | August 28, 2017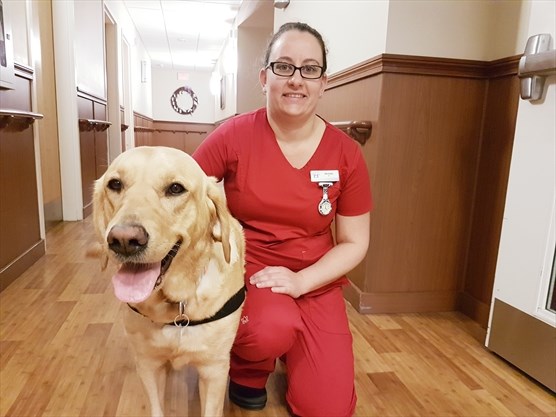 When Daisy joined the Hospice Simcoe team, she brought hope, love and lots of cuddles!
Daisy is a facility dog, and the first of her kind to join a Hospice team in Ontario. Listen to this podcast with Lynda Murtha to learn all about Daisy and the great work she's doing at Hospice Simcoe!
How Daisy became part of the Hospice Simcoe team!
Get in touch with us!
We'd love to hear from you. If you have show ideas, comments or questions, please message us through the means below!
Email: ecook@ospca.on.ca
Tweet: @OntarioSPCA
Get to know Hospice Simcoe!
Learn more: http://www.hospicesimcoe.ca
Engage: Facebook – HospiceSimcoe
Instagram – hospicesimcoe
Categories
I stand behind SPCA with my monthly gift
I stand behind SPCA with my monthly gift. I am so happy there are folks like you to care for those who can't help themselves.  My family and I have had animals all our lives and know what a comfort they are.  Thank you SPCA.
-Dorothy
Sign up for news and updates
Thank you for joining our online community.