Famous Pets
by Emily Cook | Interesting | December 1, 2010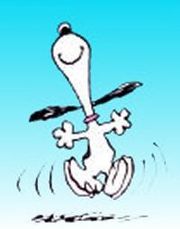 -Balto: the lead dog of the final leg of the 1925 serum run in Nome, Alaska that saved countless children from potentially deadly diphtheria epidemic that was threatening the town. More than 40 mushers took part in the thousand-mile trip which began in Anchorage. Balto's musher said there was blizzard in which he could not see his hand in front of his face, but Balto and his team got them there safely in time to deliver the serum.
-Marley: John Grogan's Golden Retreiver featured in his book "Marley and Me". The book was an autobiography of his life with the boisterous, difficult but always loved Marley. It was later turned into a movie which became a box-office hit.
-Cat in the Hat: One of Dr. Seuss' most lovable feline characters. Always seen in a unique red and white topcoat, along with a red bow-tie!
*Snoopy: one of the most recognized cartoon dogs in the world, featured in Charles M. Schulz's "Peanuts" comic. Snoopy began his career as your typical house pet, and ended up being one of the most beloved companions of Charlie Brown. Known to spontaneously burst into dance!
*Giant George: a Great Dane who is the tallest dog living , and was measured at 1.092 m (43 in) tall on 15 February 2010 and is owned by David Nasser of Tucson, Arizona, USA.
-Judy: a ship's dog who served with the Royal Navy, was the only animal to have been officially registered as a Japanese prisoner of war. She was awarded the Dickin Medal in 1946.
*Socks: Well-known presidential cat, owned the family of former United States president Bill Clinton. He was featured on the children's website for the White House for several years.
-Tinkerbell: couture-loving Chihuahua of socialite Paris Hilton.
While not every pet will be a hero or celebrity, all of our pets are special to us!
Has your pet done something
amazing

,

incredible

or just plain

funny

? Leave a comment and share your story!
Categories
Testimonial
Speaking for the ones who can't speak for themselves
Keep up the good work speaking for the ones who can't speak for themselves. A society who cares for their animals is a better society.  Thanks for your good work!
-Suzali
Sign up for news and updates
Thank you for joining our online community.