Five tips for bringing your new cat home
by Ontario SPCA and Humane Society | Cat Care | December 18, 2017
You've done it! You've made the decision to make a difference in the life of an animal and adopt a cat or kitten. While your new cat or kitten is sure to melt your heart and have you smiling and laughing for years to come, it is important to prepare for the arrival of your new furry friend.
Here is our list of tips for bringing home your new cat or kitten: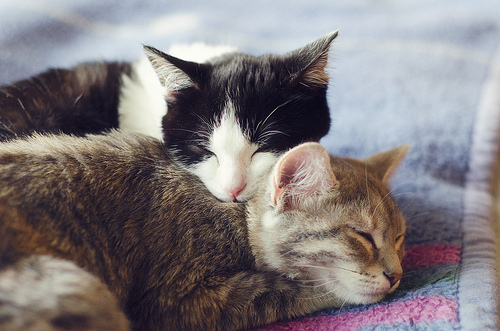 Cat-proof your home. Before bringing your new cat home, it is very important to remove any potentially hazardous items that your cat could chew on or swallow. Cats are also great climbers and jumpers and are very curious, so be sure to check and cat-proof all levels and areas of your home. This is something the whole family can be involved in; it can also help children in the home remember which items (such as small toys) are unsafe for their new pet. Items that you should be cautious about are electrical cords, needle and threads, and children's toys.
Get supplies. Cats require a litter box, bedding, food, dishes, toys, and more. Ask your adoption centre which toys your new cat/ kitten likes the most – they will be happy to share any information they can with you. Put your new cat's litterbox in an obvious and easy to find spot for the first few days, then start slowly moving it to your desired location. This will help your new pet remember where it is in their new home.
Get connected. If you are lucky enough to already have a pet, you more than likely will have a relationship with a veterinarian. If you don't have a veterinarian, conduct some research and find a veterinarian that's the right fit for you and your new pet.
The big day. Today is the day! You are now ready to take your new friend home. This can be a very exciting, or maybe stressful time for you, but remember your new cat is undergoing a big change in their life too! While driving home, ensure your cat is in a carrier and cover the carrier with a towel or blanket to help reduce the level of anxiety for the cat. Try to avoid having any other pets in the car to further reduce stress for your new pet.
Your home. Spend as much time as possible with your new pet, especially at the beginning. Help them explore their new home and develop a bond with them. To keep your pet as healthy as they can be, it is crucial your cat receives social time. When you set aside time in your busy day to play with your cat, it helps stimulate them and gives them a positive life. There are many indoor activities and games you can play with your new cat/kitten! Need ideas? You can find more tips here http://ontariospca.ca/blog/top-tips-to-inspire-your-feline-friend, ask your veterinarian, look online or visit your local library.
iAdopt for the Holidays
Come into any of our Ontario SPCA Animal Centres and take part in our iAdopt for the Holidays campaign, running until December 31st and find your purrfect match! Our goal is to get as many animals placed into loving forever homes as possible this holiday season. #iAdopt  iadopt.ca
If you already have a pet, enter our weekly contests by posting pics and sharing your story on Twitter, or Instagram with #iAdopt, or upload your photo directly to iAdopt.ca! Enter to win free pet food for a year from Royal Canin by going to iadopt.ca.
Guest blog written by Amber Ogle, Centre Coordinator for the Ontario SPCA Huron County Animal Centre.
Categories
Testimonial
For every animal you save
For every animal you save, every animal who feels loved in their last moments, and for everything else you do; thank you and God Bless.
-Stephanie
Sign up for news and updates
Thank you for joining our online community.