Friends forever: Bonded Animals at the Ontario SPCA
by Ontario SPCA and Humane Society | Happy Tails Interesting | December 27, 2022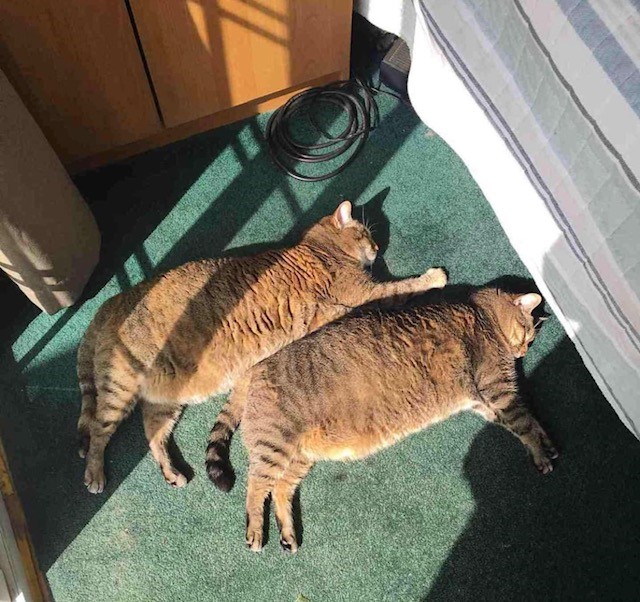 Friends are important for our health and well-being, which is why the Ontario SPCA and Humane Society does everything it can to make sure bonded animals find a home together. A bonded pair of animals are two animals who have formed a very strong attachment to each other, usually in their past home. We try to keep these best friends together when we find them new homes. 
Here are a few heart-warming stories of bonded pairs that have come into the care of the Ontario SPCA and found homes together. 
Abby and Diesel
Abby and Diesel had unexpectedly found themselves living in an overcrowded shelter in the United States. These two were inseparable, and so they had a hard time finding a forever family who was willing to bring home two senior dogs.    
Abby and Diesel are now living their best lives in Bracebridge with their new mom, Virginia. Instead of living in a cramped shelter, they're enjoying cottage country, with fresh air, bright sunlight and plenty of room to run around and play with each other. 
Read more about Abby and Diesel on our blog. 
Anakin and Obi-wan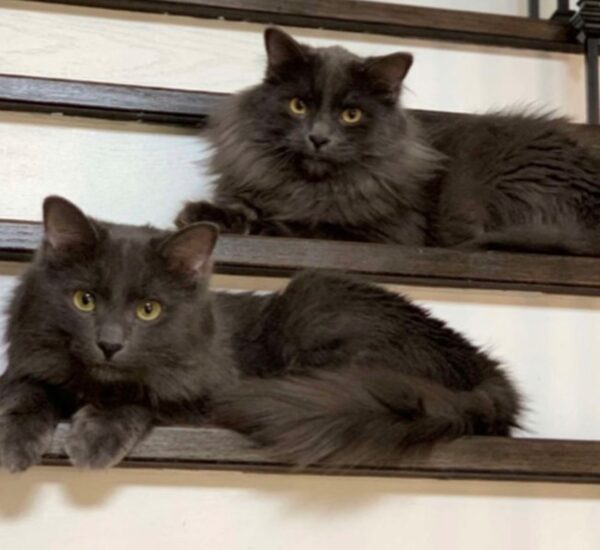 Anakin and Obi-wan came into our care after being transferred from the North Bay and District Humane Society in March 2019. It took a couple of months for them to find a purr-fect home willing to welcome two feline friends, but they quickly became favourites among staff and volunteers at the Ontario SPCA while they patiently waited.  
"Let me tell you, you've never met more affectionate cats," says Jessica Zwarych, Community Development Coordinator, Ontario SPCA Markham Cat Adoption & Education Centre. "All this pair wanted to do was crawl all over you and squish into your lap together." 
"Anakin and Obi-wan are doing well! their new adopters report. "They are such lovely cats and we've been in love with them since the first day! They needed just a few days to get used to our house, and after that they started exploring everything and got used to their new home! We are still impressed with how friendly and loving they are. They love staying with us and being pet, and whenever friends come over, they are friendly and want to meet everyone. We are still wondering how they were available for adoption for so long. They are perfect!"  
Chloe and Rocket
Chloe and Rocket came into our care in October 2019 after their family asked us to help them find a loving home. 
"We felt that these two should stay together," says Zwarych. "They seemed attached at the hip! Most people were very interested in taking home Chloe by herself because she was such a pretty kitty, but we wanted them to find a home together."  
"Chloe and Rocket are now Rachel and Pheobe," say their new adopters. "They are so happy together at our house. They are a little crazy together, but they are the sweetest things ever! They are so affectionate with our family, and they are hilarious! We just love them so much! They are a wonderful addition to our family, and we are so happy we kept them together!"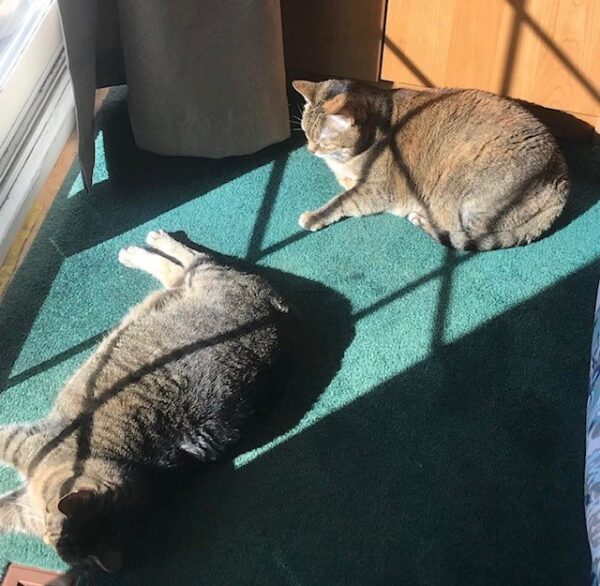 Dot and Shadow
Dot and Shadow were two 10-year-old sisters who became staff and volunteer favourites.  They often joined in on our Ontario SPCA Markham Cat Adoption & Education Centre's reading therapy program because they have the sweetest personalities!  
"We are very much enjoying these sweet girls," their adopters tell us. "We know they were well loved and cared for at the Ontario SPCA. These girls are very social with everyone. Shadow is very agile, fast and likes to climb. Dot isn't as active, but she has been getting lots of exercise. They both love to chase the sun and start the day enjoying the morning sun in our living room picture window. They love watching the birds and Dot especially likes it when the windows are open."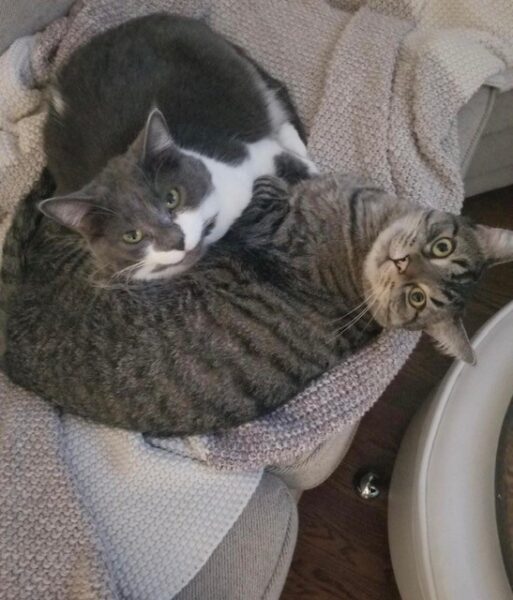 Jazz and Charlotte
Sometimes a bonded pair can take a bit longer to be adopted, but their purrfect match is out there. That rings true for Jazz and Charlotte, who set off on their new journey together in a new loving forever home just before the holidays last year.
"Both cats sleep on my bed at night," their adopter reports. "Jazz definitely takes care of Charlotte, so I can see why they needed to be adopted together. We love them, so glad I got two as they really love each other and are good company for each other." 
Sally and Polly
Sally and Polly were two-year-old sisters whose quirky personalities and fun tricks made them fast favourites with the staff at the Ontario SPCA Lennox & Addington Animal Centre. Both girls loved to "shake a paw" and "spin" in exchange for a yummy treat!  
Sally and Polly were spotted on the Ontario SPCA website by a wonderful adopter who was looking for companions for his female rat who had just lost her sister.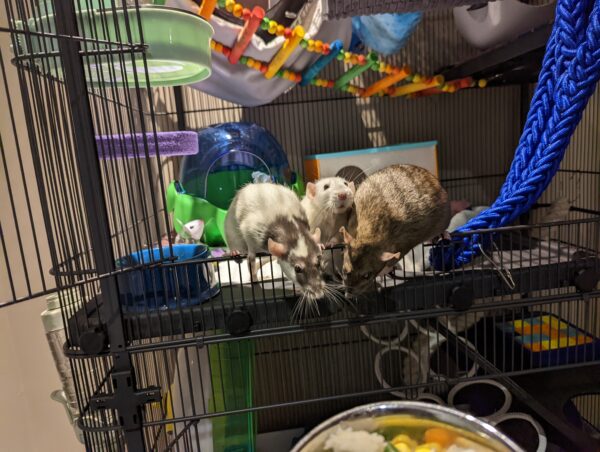 "After 10 days of gradual introductions, we integrated Polly (now Chunk) and Sally (now Clover) with our lone rat Pixie," their adopter says. "Pixie is very happy to have new friends." 
Interested in adopting? Take the Meet Your Match Personality Quiz to see animals awaiting adoption.  
If you're not in a position to adopt, but want to change a life, consider adopting-it-forward by paying the adoption fee for one of our animals having a more difficult time getting adopted. 
Categories
Testimonial
Your dedication and support
It is with and because of your dedication and support that helpless animals are being saved. Thank you for everything.
-Wendy
Sign up for news and updates
Thank you for joining our online community.