Furry fun for Family Day!
by Emily Cook | General Pet Care | February 18, 2019
Whatever your plans are this Family Day, your furry friend would probably love to be a part of it! To help you out, here's a list of activities that will be fun for everyone in your family – furry or otherwise.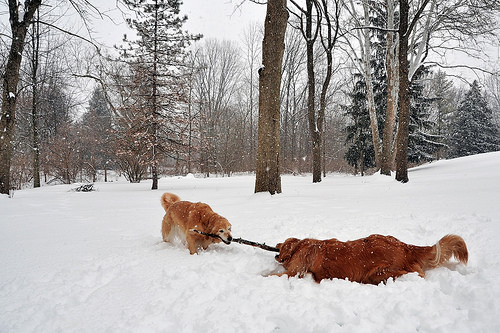 Enjoying the great outdoors. When all the family is together, a great activity is heading outside! There are so many activities your pet would love to join you in outside: hiking, going for a walk, sledding, bird watching… and the list goes on! Keep an eye on your pooch to make sure they aren't getting too cold, and if they show signs of hypothermia, get them inside and warm right away. More information on hypothermia.
Cuddling up for a movie. If the outdoors isn't what your family's after on their day off then why not cuddle up for a movie! Need movie inspiration? Check out our list of great animal movies for a cuddle-up kind of day.
Training. Another great indoor activity is training! With the family all together, this can be a great time to train your dog, or teach them some tricks. Learn more about training here.
DIY dog toys. Enjoy some time making toys your dog will love to play with! Check out our video for a step-by-step on how to make them.
Whatever you end up doing today, the Ontario SPCA wishes you an fun and safe Family Day!
Categories
I stand behind SPCA with my monthly gift
I stand behind SPCA with my monthly gift. I am so happy there are folks like you to care for those who can't help themselves.  My family and I have had animals all our lives and know what a comfort they are.  Thank you SPCA.
-Dorothy
Sign up for news and updates
Thank you for joining our online community.