Generous gesture helps cats find homes
by Ontario SPCA and Humane Society | Interesting | December 13, 2017
It's always a heart-warming experience when an animal finds a loving family to call its own. When someone helps make that possible by sponsoring an animal's adoption fee, it's difficult to find the words to sufficiently thank them for such a selfless act.
We recently had a very generous individual visit the Ontario SPCA Provincial Education & Animal Centre, located just outside Newmarket. In the spirit of giving, they wanted to do something to give back to their community and animals in need. With pets at home, they weren't in a position to adopt. Instead, they paid the adoption fee on three cats that have been with us for quite some time.
Snowball and Mischief both suffered from genetic eye conditions that made them difficult to adopt and, at 12 years old, Gizmo was being passed over for younger cats. Thanks to the thoughtful gesture of one person, Snowball, Mischief and Gizmo were adopted and are now settled into new homes with families who love them.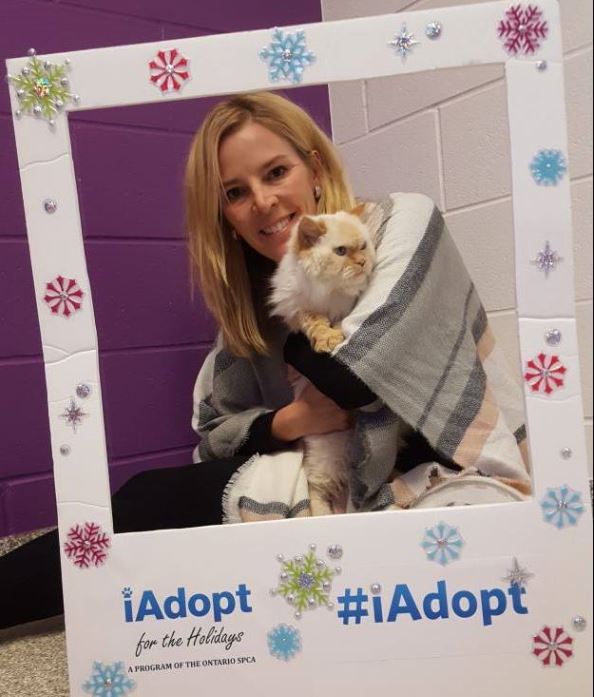 This isn't the first time this person has helped our feline friends. Last year, they paid the adoption fees on three cats that were having a difficult time finding a home. They, too, were adopted.
Across the province, members of the public are doing wonderful things for their local Ontario SPCA Animal Centre. In Orillia, a radio listener heard the Orillia Animal Centre's "pet of the week" segment and called the station to say that they wanted to see all the cats at the Animal Centre find homes. This individual paid the adoption fees on eight kittens patiently waiting for new loving homes.
There are still many animals in our care who need homes. Drop by an Ontario SPCA Animal Centre near you to meet animals up for adoption.
*Please note that tax receipts cannot be issued for adoptions.   
Categories
Testimonial
Speaking for the ones who can't speak for themselves
Keep up the good work speaking for the ones who can't speak for themselves. A society who cares for their animals is a better society.  Thanks for your good work!
-Suzali
Sign up for news and updates
Thank you for joining our online community.