Get your dog ready for the Friends for Life! Walk™ with these walking tools!
by Ontario SPCA and Humane Society | Campaigns | August 13, 2018
Whether your dog walks well, or is a bit more rebellious, you may find knowing about these walking tools helpful!
If your pet does struggle with obedience, or getting too excited on your walks, you can get your pup ready for the Friends for Life! Walk™ near you with these tips!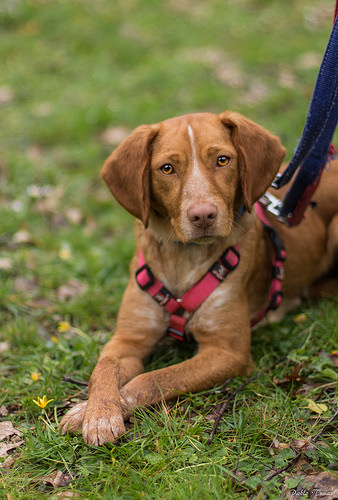 FRONT CLIP CONTROL HARNESS
Just like it sounds, the leash attaches to the front of the harness. When the dog reaches the end of the leash, he or she is turned around by the pressure at the chest.
PRESSURE HARNESS
When your dog pulls against the leash, this harness tightens around the forelegs or chest. Keep in mind that some stronger dogs can learn to tolerate the pressure, therefore reducing its effectiveness. This is more of a short-term training device than a complete solution.
HEAD HALTERS
This device fastens around the muzzle and back of the head, which gives the handler control over the head (which in turn controls the rest of the body). This is a great solution for tough cases as it is gentle but extremely effective. Owners with pug-type noses should not use this walking tool because it can hinder their breather.
LIMITED SLIP COLLARS
These collars have a typical flat surface like regular collars, but there is a chain loop at the back that exerts pressure if the dog pulls. These are a much better alternative for owners that have been using choke chains and want to switch to something that still exerts pressure (but without causing irreparable damage to the throat or skin that choke chains do).
What's not recommended for dog walks?
Walking tools that are not recommended include:
Pinch/prong collars
Choke chains
Flat harnesses
Electrical collars
To learn more about the different types of walking tools and which brands the Ontario SPCA recommends, visit our Training Tips.
Experiment with different walking tools to see which one best suits your dog, and happy trails!
Categories
Testimonial
We have supported the OSPCA since 1951
We have supported OSPCA since our arrival in Canada in 1951.  Keep up the greatest  T.L.C. for animals.
-Paul & Des
Sign up for news and updates
Thank you for joining our online community.