Gifts for the horse & small animal lovers on your list!
by Ontario SPCA and Humane Society | Campaigns | November 16, 2016

Do you have someone on your holiday list who just loves horses or small animals like rabbits and guinea pigs? Well the holiday season is just around the corner and at Paws & Give™ we simply have the most whinnyful gift ideas for that special someone! You can shop now and have your ecard sent whenever you choose.
Show your friends and family how much you care! Give the best gift, a gift of caring from our gift collection.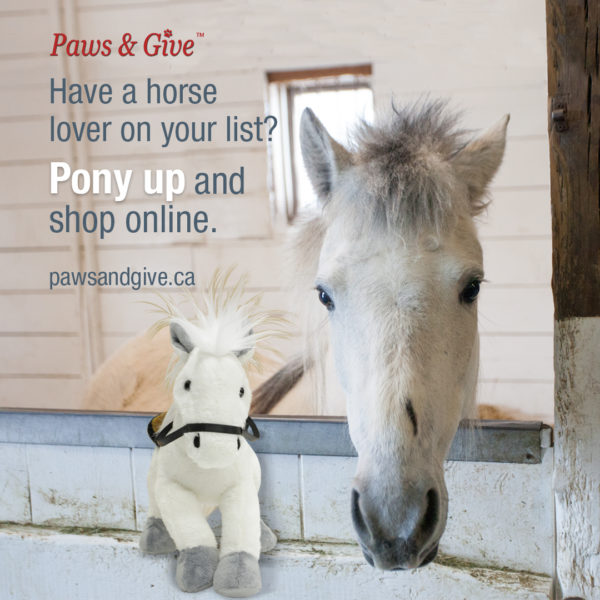 Gift ideas horse & small animal lovers will love
Provide a horse with safe shelter, daily grooming, hoof care, enrichment toys, any required veterinary treatment, and loving care. Give the gift of Care for a Horse or Gift of Urgent Need to rescue animals in desperate need of help.
Provide small animals, including rabbits or guinea pigs, with loving care, warm bedding, enrichment toys and any required veterinary treatment. Give our gift of Care for a Small Animal or also provide enrichment toys vital to an animal's well being with a gift of Toys for Shelter Pets.
Give a gift and change the life of an animal in need today!
Add one of our plush toys, such as Connemara Pony Velvet, from our Rocky and Friends collection! Did you know that each of our plush members of Rocky & Friends is created in the image of a real animal who found a new life thanks to donors like you?
Help more animals get the help and homes they need. Pony up and shop now!
Categories
Testimonial
Totally rock
All of your wonderful staff & volunteers totally rock. The amazing compassion and work you provide on a daily basis is incredible.
Laura
Sign up for news and updates
Thank you for joining our online community.