PET HEALTH CORNER: Halloween Safety Guide for Pets
by Emily Cook | General Pet Care | October 28, 2016
By guest blogger: Dr. Ryan Llera
The leaves are changing, the air is colder, and this was never more apparent then when I stepped of the plane after a trip to Florida last week.  It's good to be back home in Kingston and now it's time to get your pets ready for the next few months.  Some of these things may seem like common sense but it's always good for a refresher.
Halloween safety: Dangers to be aware of
Halloween is this week!  The dangers of chocolate have been well known for awhile now but what about some other things that could end up in the treat bag?  Gums or any other candy containing xylitol can be fatal as well.  Once digested it can cause liver failure and low blood sugar causing seizures.  They will need to be decontaminated ASAP and while the smell of spearmint laden vomit is not horrid, we'd rather your pet not take the chance.
When I was a kid, occasionally somebody would throw some money in the bag…just spare change really not enough for a 12 year old to retire on.  If there happened to be any American pennies after 1982 or Canadian pennies from 1997-1999 (which we up in Canada have eliminated use of the penny completely), they too can be poisonous to your dog.  Aside from obstruction, the body will actually start to eat away at the coin and the zinc in the coins will cause an anemia.
Dressing your pet up?  Sure, why not!?  Lots of people enjoy dressing the pets up along with the kids because let's face it, they're really cute.  I would caution to check for loose strings that cats may swallow or pieces not secure that could also be eaten by your dog.  Additionally, make sure costumes are not too tight or restrictive with elastic that may cause choking or circulation problems.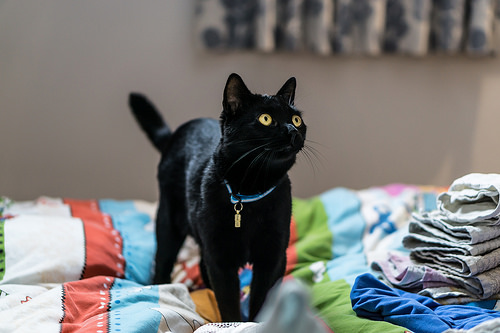 Got a black cat?  I previously discussed black cats on a Friday the 13th and the origins of people's fears dating back to witchcraft.  The same rules apply because people can be mean and may harm black cats due to ignorance.  It's best to keep them indoors during Halloween.
Don't forget to check me out on Facebook, Twitter, and now Pinterest to see more events in my day & more shared info!
Disclaimer: All blog posts may contain opinions which are my own and may not reflect those of any current or former employers.
Dr. Ryan Llera is a small animal veterinarian living & working in Kingston, Ontario where he has been an associate vet at the Kingston Veterinary Clinic since 2012. He is a 2006 graduate of the University of Illinois College of Veterinary Medicine. Though originally from Florida, he married a Canadian (who is also a vet!) and made the trek up north. He & his wife, Jennifer, share their home with 3 cats, 2 dogs, and 2 horses.  You can find more of Ryan's blogs at www.drryanllera.com or see what else he is up to on Facebook or Twitter @DrRyanLlera or Instagram @drryanllera
Categories
Your dedication and support
It is with and because of your dedication and support that helpless animals are being saved. Thank you for everything.
-Wendy
Sign up for news and updates
Thank you for joining our online community.