Halloween Safety Tips for your Pet
by Emily Cook | General Pet Care | October 28, 2010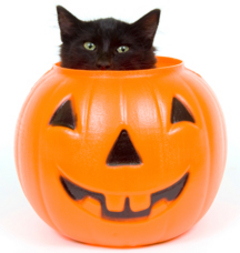 There are few times of the year that excite kids more than the prospect of Halloween. Fun costumes, a night of trick or treating and the best part: CANDY! Pet owners also enjoy the opportunity to dress their pets up in cute or hilarious costumes.
While Halloween is full of fun, here are some tips to keep your pet safe on Halloween:
Never leave your pet unattended while in a costume. Even costumes designed for pets can be dangerous if they tighten or have loose parts that can be chewed off an ingested. Always remove the costume immediately after.
Keep your pet away from your front door during prime trick or treat hours. Repeated doorbell ringing or knocking may get your dog excited, and he or she may accidentally run out. Cats are also the masters of escaping, so be sure to keep them contained in another part of the house.
Always keep candy out of the reach of pets. Chocolate can be toxic to pets, so avoid keeping bowls of candy on the floor where it can be eaten by pets.
Beware of pumpkins! While they are the hallmark of Halloween, if your pet nibbles or chews on one it might upset their stomach.
At our house, I always put Jersey's bed and a favourite bone in the kitchen with the doors closed. She is able to see me and the door, but it keeps her in a safe spot while I'm repeatedly opening and closing the door. I also tend to keep her indoors too where I can keep an eye on her.
Know your pet and know your neighbourhood. Enjoy your Halloween, and be sure to buy or make some pet-friendly treats so your furry friends can enjoy too.
Share your Halloween Pet Pictures!
Categories
Testimonial
Dogs only ask for your love and attention
Dogs only ask for your love and attention, nothing else. Thank you for everything you do!
Christine
Sign up for news and updates
Thank you for joining our online community.