How do I….keep my dog's paws clean this spring?
by Emily Cook | Dog Care | March 25, 2013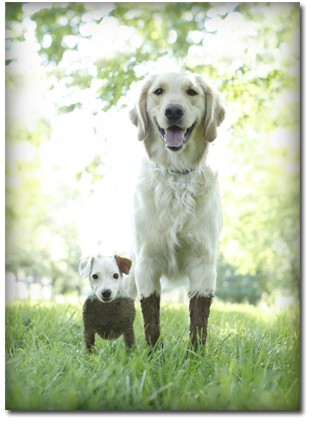 The chirp of local birds and longer days are a sure sign that spring is on the way! There is one aspect of spring however that most dog owners do not love: muddy paws. The warmer temperatures turn frozen ground into a muddy mess, particularly in high-traffic areas as the local dog park or even in your own backyard. During playtime, this can mean lots of joyful splashing around outside, resulting in a thoroughly happy but definitely dirty dog to contend with.
Here are some suggestions for keeping your dogs clean this spring:
Train your dog to allow daily handling of their paws. Ideally done as a puppy, handling and touching all four paws on a regular basis (not just at the vet's or during nail trimming) will allow you to wipe your pet's paws down while they stand patiently. 

Place a large towel by the doors (along with a hand towel) so that you can easily wipe your dog's paws as they come inside. Some dog owners prefer to keep a small bucket of water handy and either dip their dog's paws in (if the dog is comfortable with it) or wet a corner of the towel to clean the worst of the mud.
Invest in a pair of waterproof dog boots. Be prepared to allow your pet some time to get used to them, and use positive reinforcement to encourage them to accept them.
Use a dog coat with a wide belly band to prevent water from splashing up onto your pet's stomach.
Have a handy pet tip for other dog owners on how to keep their dogs clean this spring? Share them in the comments below or on our Facebook page!
Categories
Testimonial
Dogs only ask for your love and attention
Dogs only ask for your love and attention, nothing else. Thank you for everything you do!
Christine
Sign up for news and updates
Thank you for joining our online community.